McTavish and The Atlantic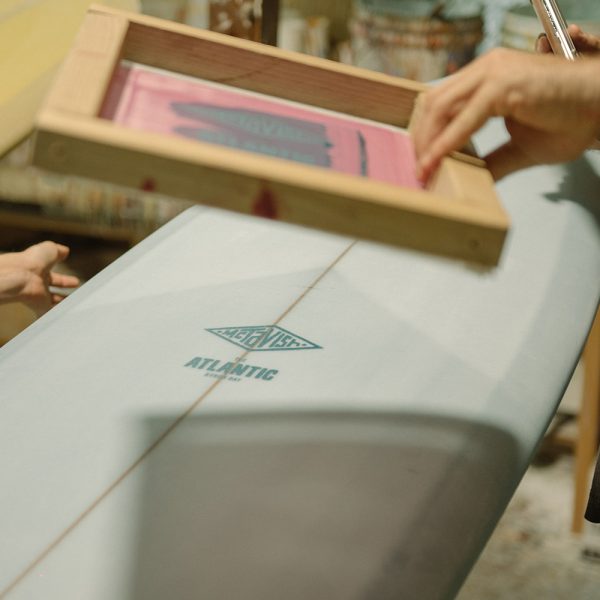 McTavish and The Atlantic: a marriage made in Byron!We're totally stoked to have our premium board range freely available to the guests at The Atlantic, the premium accommodation in our wonderful town.
With some of the worlds great surfing locations within walking distance, The Atlantic crew can really enhance your stay with a Byron essential, hitting the waves on a sweet, locally made McTavish surfboard!
Have fun…. Bob McTavish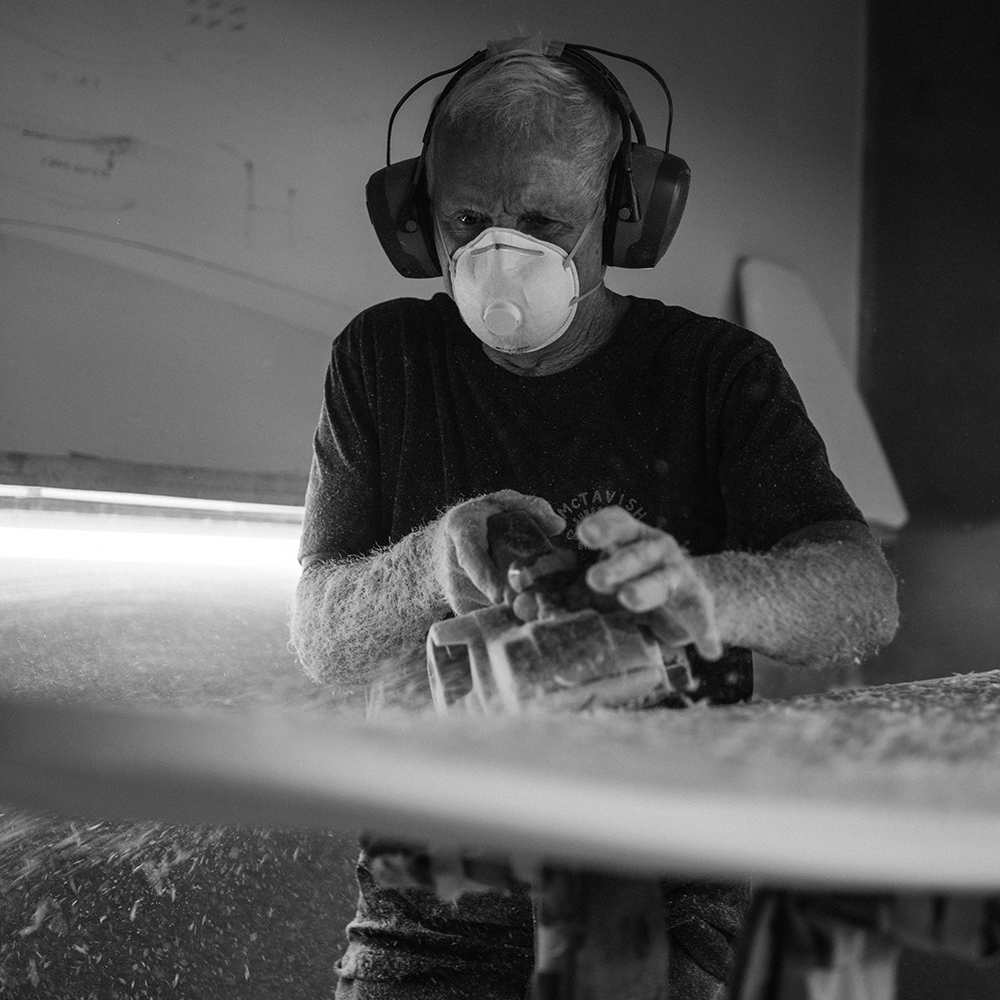 A marriage made in Byron Bay.
There are a number of things that make Byron Bay the special place that it is, and one of them is undeniably the surfing. A large majority of our guests come to Byron Bay to enjoy the beaches, whether passing the hours on a towel, dipping in the ocean, or surfing one of our perfect points. Surfers have been making pilgrimage to these revered rock and sand formations for decades, legends have cut their teeth here, and almost everyday someone is bound to have fallen in love with the feeling of riding a wave. For The Atlantic, surfing is at the core of its family unit and hotel ethos.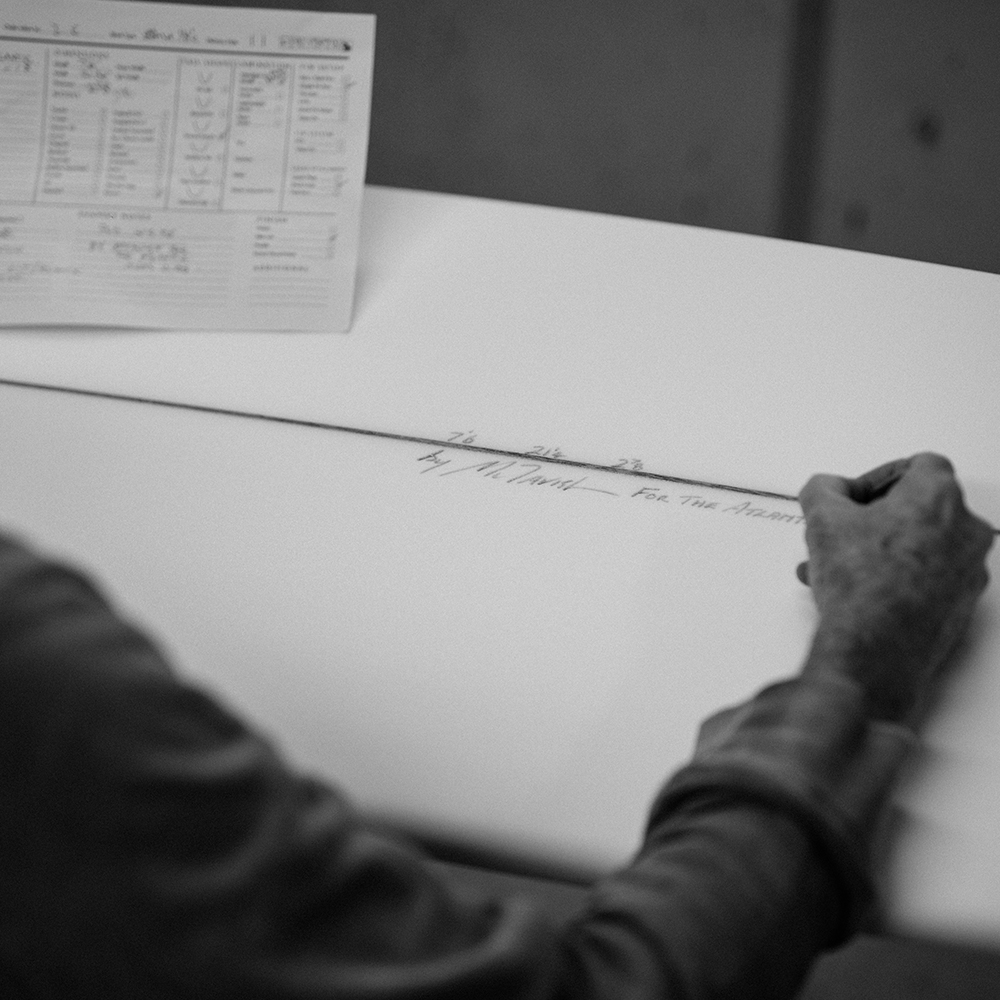 How did the partnership come about?
The relationship between McTavish and The Atlantic goes a long way back, there's a mutual respect, friendship and  passion for surfing and its culture. Byron Bay is a small town, a proud town, and collectively the excitement for a shared project has been sizzling away waiting for the perfect time to launch. With a new summer lapping at our feet and a forecast for joyful little swells rolling their way into the bay, we thought that now was as good a time as ever. We both wanted visitors to the area to have a beautiful surfboard under their feet while they visited the hotel, and now they do.
What have we made for you?
To put it simply, there are 6 surfboards. Sure, we may be biased, but this fleet of 6 surfboards feels almost too good to ride. 6 beautiful pieces of foam and fibreglass, all hand shaped by surfing royalty, Bob McTavish and his son Ben. Hand shaped, like they always have been by the hands of the McTavish family. Finished with speciality tints, in colours drawn from The Atlantic, a hand picked palette produced in collaboration with Atlantic Byron Bay founders Kimberly Amos and Stephen Eakin. Boards range in size from 5'9″ to 9'4″, there really is something for everyone.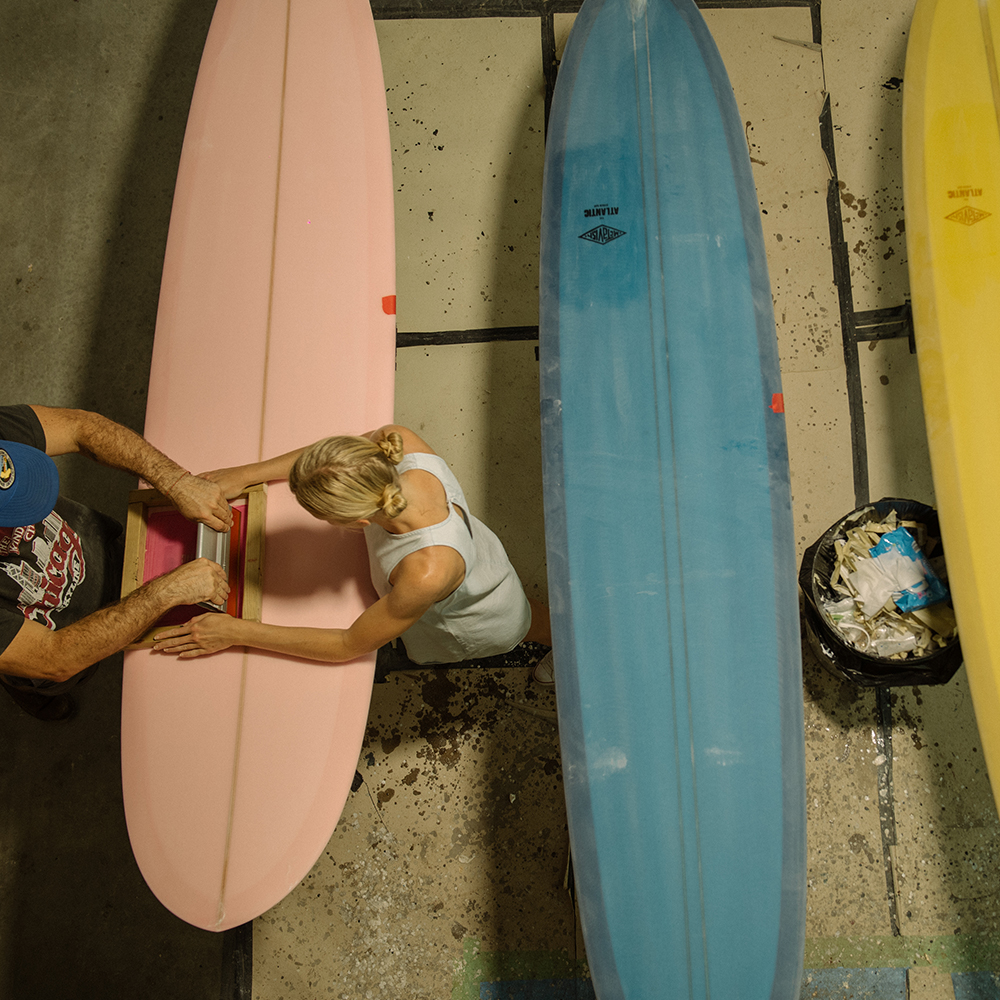 Let's take look at each board as described in the words of Bob McTavish.
VINNIE: "In 2004 I was privileged to receive two templates from Mr Fish himself; Steve Lis, I have literally just about worn them out! So all credit goes to Steve Lis. Enter 2016 and the Fish is back! Steve's original lines are the base for our Vinnie but this time round I have pulled the nose in and added a slight cut to pull the tail in a fraction making backside more manageable. Combining this with a smaller fin template and altered fin position, it gives the Vinnie beautiful release off the top and a feeling of control. With the generous chest volume and forgiving 60/40 forward rail, the Vinnie is a super reliable daily Twinny.
Dimensions: 5'9″ x 21″ x 2 5/8"
Rider profile: 70 – 85kgs, Intermediate to Advanced. Ride it at The Pass, The Wreck, Belongil Tallows and Broken Head.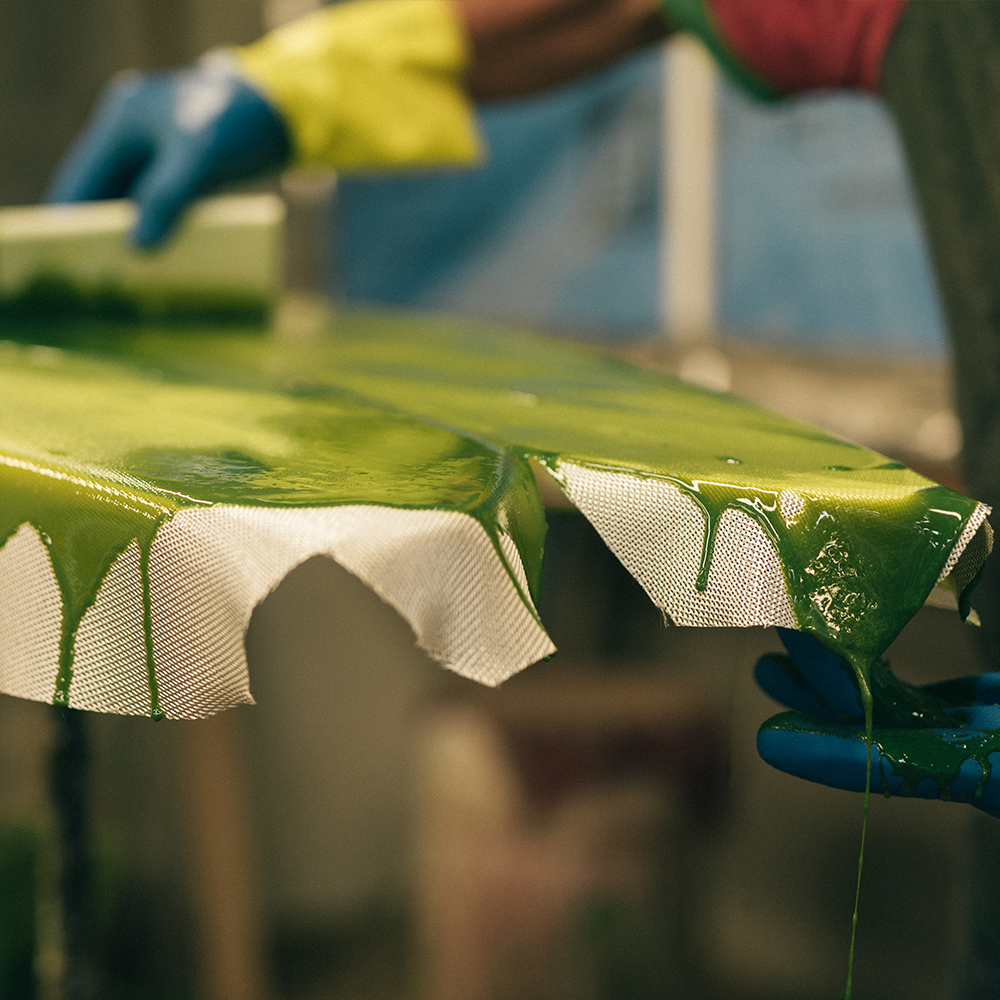 RINCON: "One of our most user-friendly designs, the Rincon is named after its first breakthrough performance in early 1968, at Rincon, California – the Queen of the Coast. It followed straight after the deep-vee Plastic Machines of 1967, and the flatter bottom and finer rocker allowed fantastic speed down-the-line, allowing a ride from way out the Indicator, clear to the highway, on nay set wave! Its low rocker, slight vee, rounded bankable rails, and specific fin design deliver sweet, controlled speed and trim, plus smooth arcing turns and acceptable pivots, making it versatile for beach breaks as well as points. Constructed from 1968 materials… Volan cut laps and deck patch to reduce weight… the Rincon is one sweet rider with timeless appeal."
Dimensions: 7'6″ x 21 1/4″ x 2 7/8″
Rider profile: 65 – 95kgs, Beginner to Advanced. Ride it at The Pass, Wategos, Tallows, Broken Head, Belongil and Main Beach.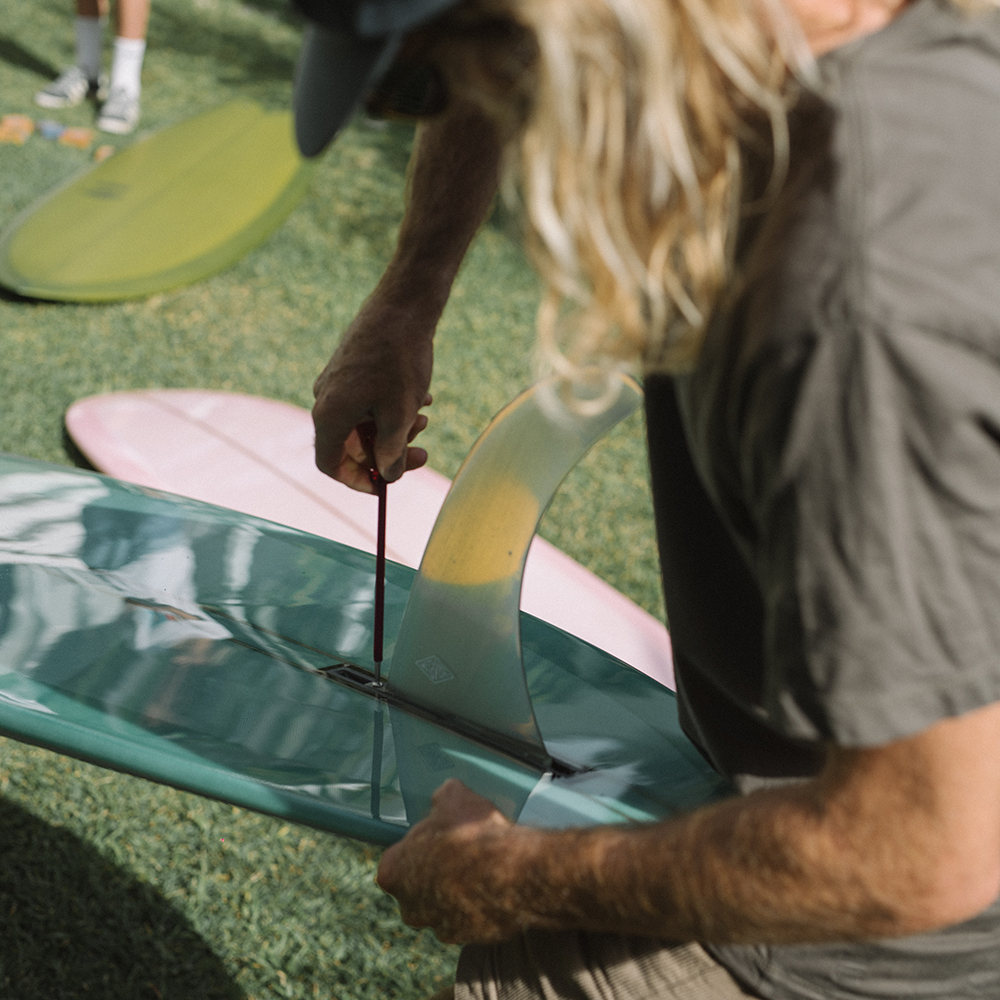 FIREBALL EVO II: "What can we say about the Fireball that hasn't already been said? It's quite simply the best all-round longboard available! Since its borth 25 years ago, the Fireball has made thousands of surfers stoked again. Why? The Fireball has three distinct zones blended into an attractive versatile package. The Fireball EVO II is the latest modification in its design, with a touch less nose rocker and added width in the longer versions. Just simple tweaks to keep the Fireball at the front edge of deisgn. As we always say, "borrow your mates…" it'll get you stoked!"
Dimensions: 9'1″ x 22 3/4″ x 2 7/8″
Rider profile: 65 – 95kg, Beginner to Advanced. Ride it at The Pass, Wategos, Tallows, Broken Head, Belongil and Main Beach.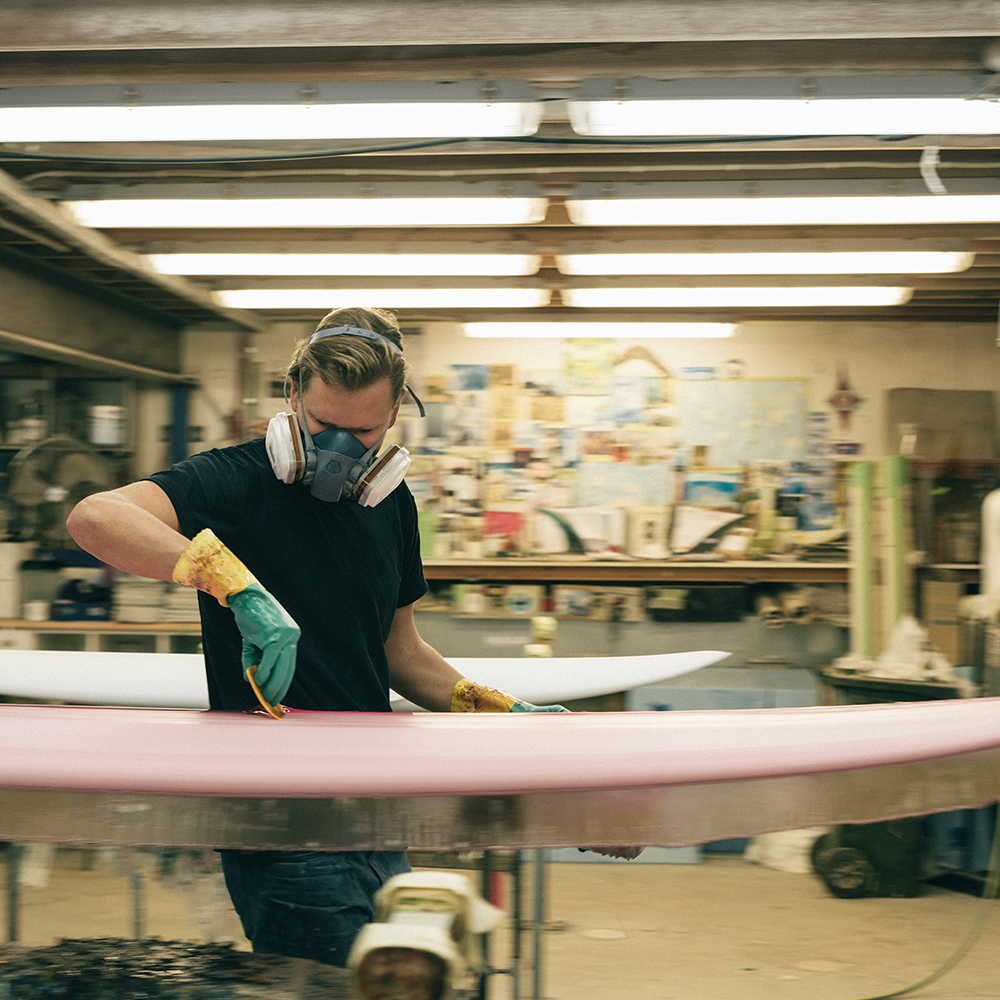 FIREBALL SQUARETAIL: "The Fireball Squaretail is a timeless all-rounder, not too high performance, not too classic, just one sweet reliable daily rider, the perfect workhorse. The Fireball Squaretail will handle everything thrown at it, from dribbly little slop to a clean six foot day at a sucking reef or point. Good paddling, easy wave catching, no-wobble cross-stepping, nose riding, great turning, fast trimming… it's got the lot! The classic Longboard!"
Dimensions: 9'2″ x 22 1/2″ x 2 7/8″
Rider Profile: 65 – 90kgs, Beginner to Advanced. Ride it at Wategos, The Pass, Belongil or Broken Head.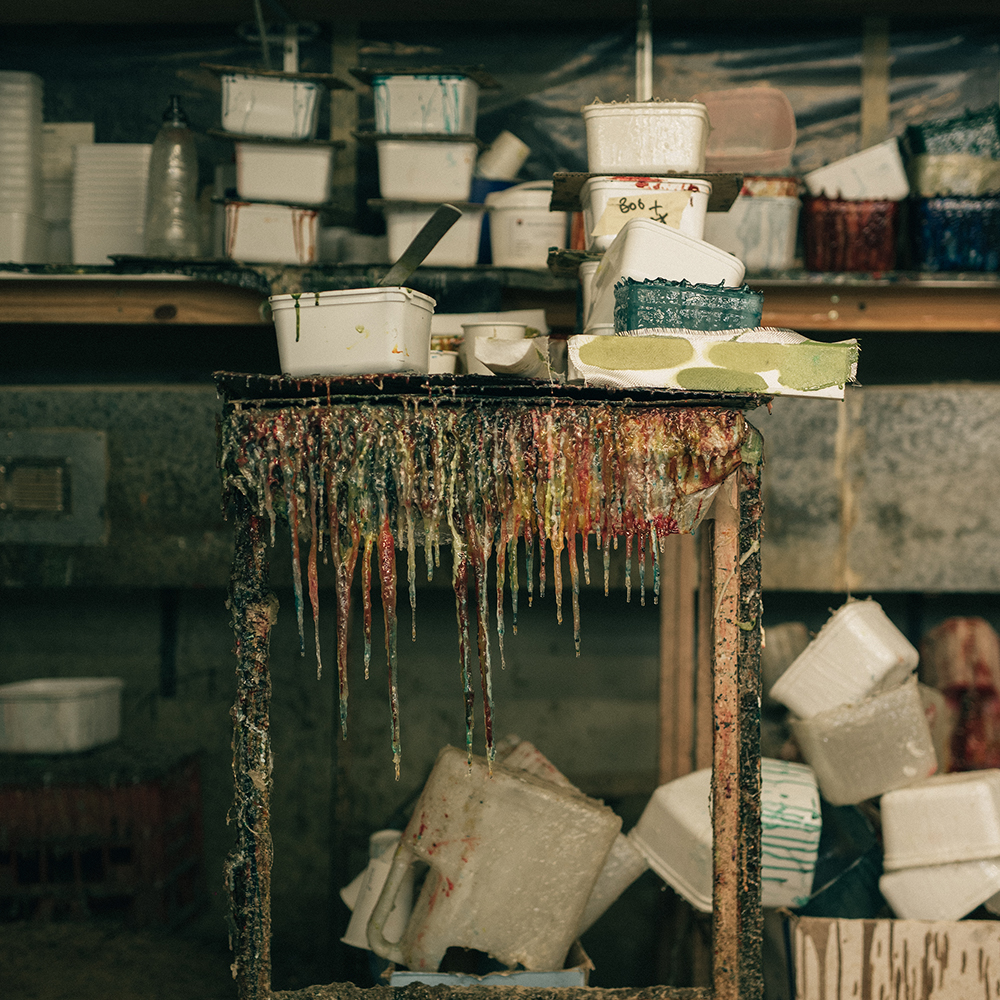 INVOLVEMENT: "We developed the Involvement in 1966. It's the extreme end of the "Pig" template where the tail measurement (12″ up) is wider than the nose. Pigs were pioneered by Dale Velzy at Malibu in the late 50s, good trimmers and nose riders found the template more nimble off the tail, and far faster in trim, and nose riding wasn't really hurt at all, surprisingly. We considered the design a little extreme until Matty Chojnacki urged us to make him one a few years back. He absolutely ripped on it, with gliding drop ins followed by a snappy bottom turn, fast nimble walking, in-the-slot trimming, tight nose-rides, and high kick stalls. A real thriller, the Involvement is the extreme end of the pivot-trim-noserider approach for small lined up waves today."
Dimensions: 9'3″ x 22 1/2″ x 2 7/8″
Rider Profile: 65 – 90kgs, Intermediate to Advanced. Ride it at The Pass, Wategos and Broken Head.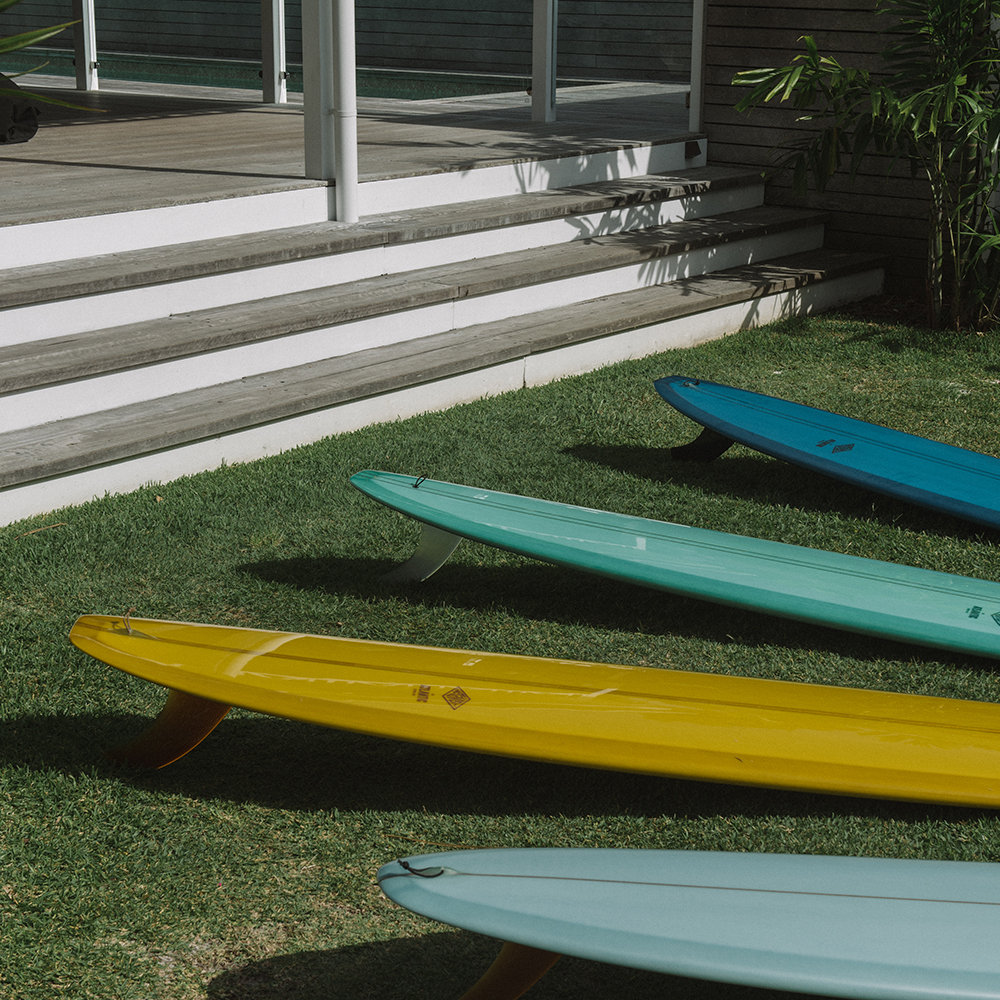 NOSERIDER: "In the glory days of California surfing the Noserider was the flagship, the banner carrier, the numero uno. It smacked of Detroit with its extravagance of foam and stringers, of beautiful coloured resin panels and oversized fins. An elegant tanker that trimmed along like a long-stroke V8 through sloppy sections and weak walls. The classic Noserider still appeals for all aforementioned reasons. A beautiful cruiser with all the tricks added. Take four steps or two, and hold that pose as long as you can, on tiny waves or up to waist high. Lots of board equals lots of glide."
Dimensions" 9.4″ x 22 3/4″ x 3″
Rider Profile: 65 – 95kg, Beginner to Advanced. Ride it at The Pass, Wategos and Broken Head.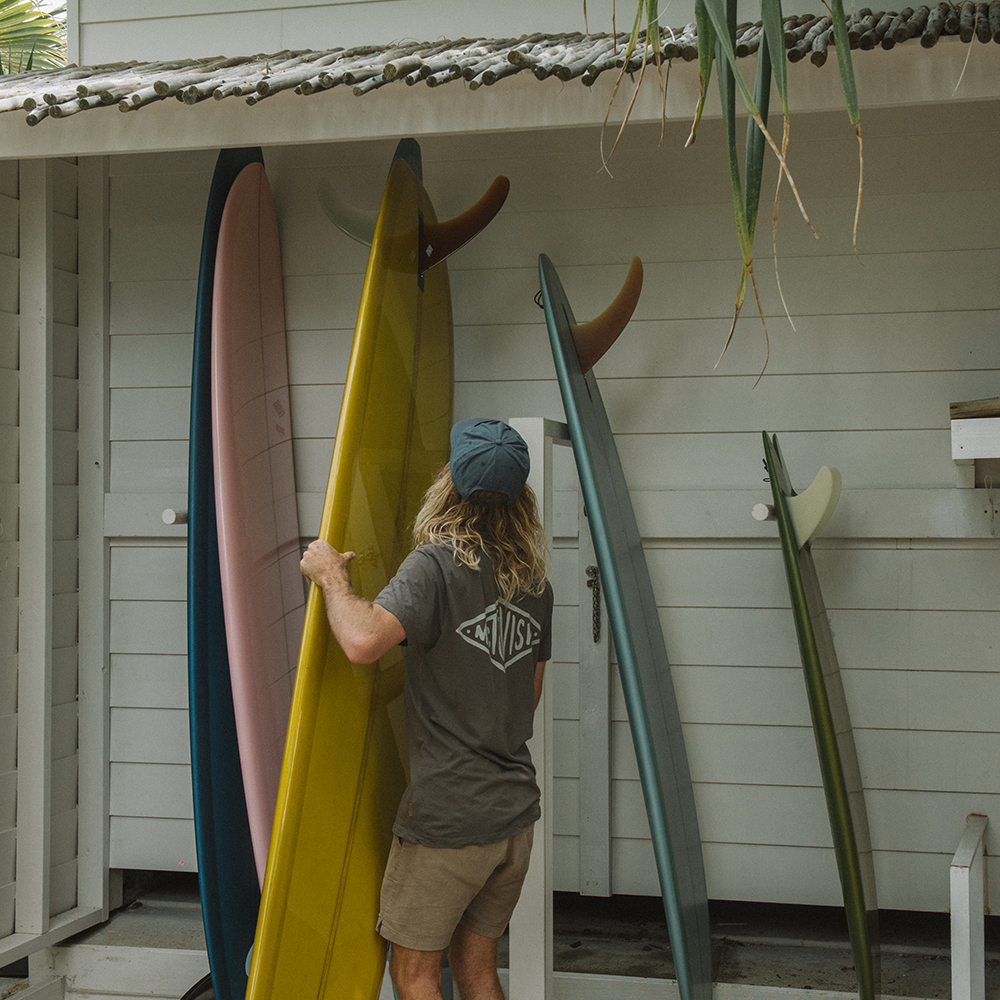 What happens if I fall in love with one of these boards?
Don't worry, you won't be the first, nor will you be the last. If you're anything like us and are wondering how life could ever be the same without a McTavish surfboard in it, you can head around the corner (literally a 3 minute walk) to the new McTavish Outpost store on Fletcher street. In store you'll get specialist attention and the kind of royal treatment you'd expect from surfing's royalty brand.
Many and sincere thanks to the whole team at McTavish. Their authenticity, passion and collaborative nature have made the journey of this project a total pleasure and together we cannot wait to hear about the joy you feel as a result. 
To learn more about McTavish and to start your own journey with them, head to mctavish.com.au or to their stores at 29 Fletcher Street, Byron Bay and in the Industrial Estate at 91 Centennial Crt, Byron Bay. For enquiry call 02 6680 8807