Welcoming : Grown Alchemist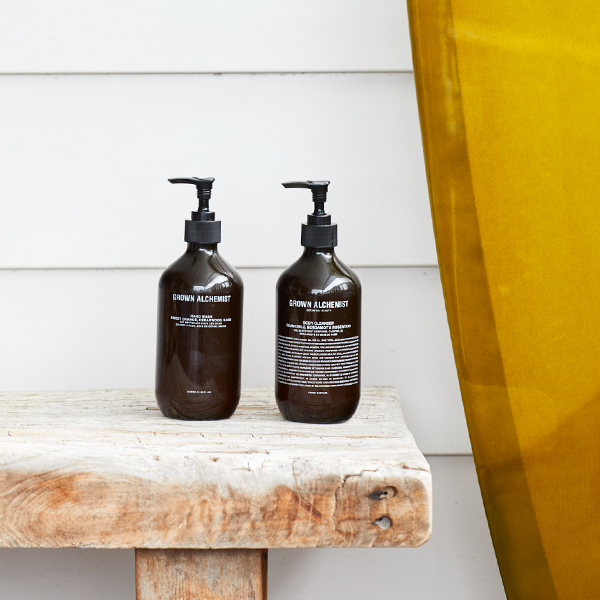 When it comes to doing something at The Atlantic, we believe in doing it well. For our Guest Services team, every little detail of your stay with The Atlantic Byron Bay is considered to be critically important. The size of your towel, the character of your room, the mattress you rest on, our local area guidance, and of course the list goes on.
This year we have been seeking to lift our focus on amenities, so naturally, when it came to considering who to officially partner with, it was impossible to take it lightly.  Reducing waste was a key factor, lifting the sensory experience was another, making a decision based on wellness was critical, partnering with a home grown business was also important to us, and aligning with a maker that conducted themselves with the same level of casual complexity that we do was to be inevitable.
"We spend a lot of time in California, it's our home away from home. We visit friends, galleries, new stores, cafes, flea markets…. go snowboarding or surfing.
The lifestyle is similar and there's always something inspiring that recharges our batteries and reconnects us to our own business.
We recently stayed at The Surfrider Malibu and felt instantly at home. The cool surf culture vibe of the interiors, the rooftop bar overlooking the first point, 
the team that welcome you off your 13 hour flight that arrives at 6AM!!! Every detail for us was a perfect blend of Byron and Southern California. 
We weren't aware of the Grown Alchemist brand before staying there so when it was suggested as a possible new amenities brand at a meeting….. 
it was an easy choice. We are thrilled to be sharing this range with you. Enjoy." 
Those of you who have a particular interest in seeking out the hidden treasures of the nutrient rich skin care and wellbeing landscape will absolutely already know of, likely even have some, Grown Alchemist within arms reach. Launched over a 6 year period from 2002 to 2008 by Melbourne brothers Keston and Jeremy Mujis, the business took hold globally before it did here in Australia, and it's only now that the brothers have started opening up trade partnerships in hospitality. The Atlantic Byron Bay is just the third hotel in Australia to roll Grown Alchemist out to its guests and we couldn't be happier.
Grown Alchemist product is based around certified organic botanical extracts and natural non-toxic ingredients, holding a unique synergy between biology and cosmetic chemistry, creating a Bio-compatible Beauty and trademark skincare system of Cleanse, Detox, Activate. In terms of its packaging, aside from being beautiful, hardened non-chemical leaching PET and recyclable glass hold hands with microbe resistant valve systems.
We're proud to introduce Grown Alchemist to
The Atlantic Byron Bay
, available in all room types and common areas, to ensure that you give back to your skin when you come here to relax.