Meet the team: Des O'Connor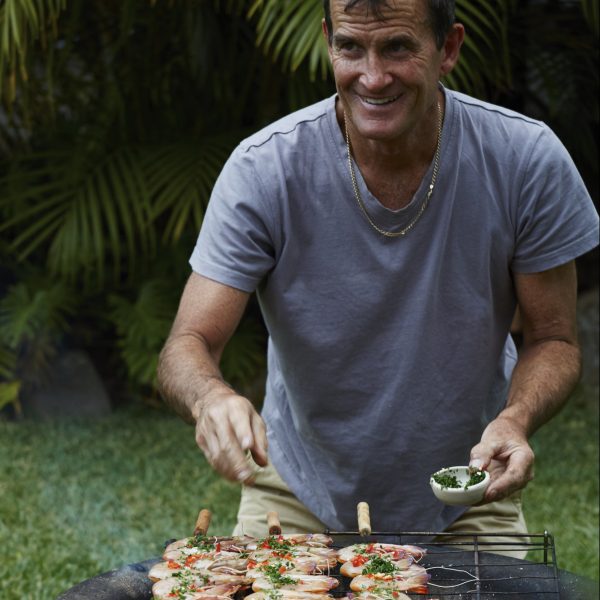 Get to know Des, our charismatic Night and Maintenance Manager, who is well known and loved for his dedication to The Atlantic gardens, creating the firepit magic every evening and his famous barbecued prawns…yes, we have the recipe!
Tell us a bit about your background, before moving up to Byron…
I was born in Africa and lived there for nearly 10 years. My parents are Irish and migrated to Rhodesia (now Zimbabwe) after the war. Back then it was one of the most fertile countries – there would be mulberry trees with Chameleon lizards all over them and tropical fruit growing in high altitude. Ever since then, I've always known about and appreciated fresh food and good home grown produce. We moved when I was 10 as my father could see where things were going there and it wasn't good. We went back to Ireland and then moved to Sydney where I did my schooling. After that I bounced around Australia between Victoria and Noosa.
What drew you to Byron?
It was 30 years ago and I was living in Sydney and just had this urge that I needed to get my panel van and drums and head up to Byron. It was like my spirit was speaking to myself, telling me what to do. I had this calling – you've got to get up to Byron Bay and live a real life – a good life – which is what it is up here. It has magic air, food – and the magic is still in the air. So many people come here to get that Byron Bay experience – they actually do slow down and chill out – what the sign says as you drive in.
When did you start at The Atlantic and how did it come about?
I started here 10 years ago – I had a surfing injury and Kimberly and Stephen asked if I wanted to look after the place at night for a few weeks…and that extended to 10 years.
What would a typical day/night look like for you at The Atlantic?
Usually I get up early and check the surf and make a connection with what's going on out there. I then have a surf and breakfast and then throughout the day I chime in with what's going on here…doing whatever needs to be done to keep this place shiny. I like the gardens the most, they are beautiful gardens to hang around in – most of these plants are my friends now. At the end of the day I light the fire – it's a nightly thing here – it's in our DNA. I then manage the lock up and look after any late check-ins and just keep an eye on the place.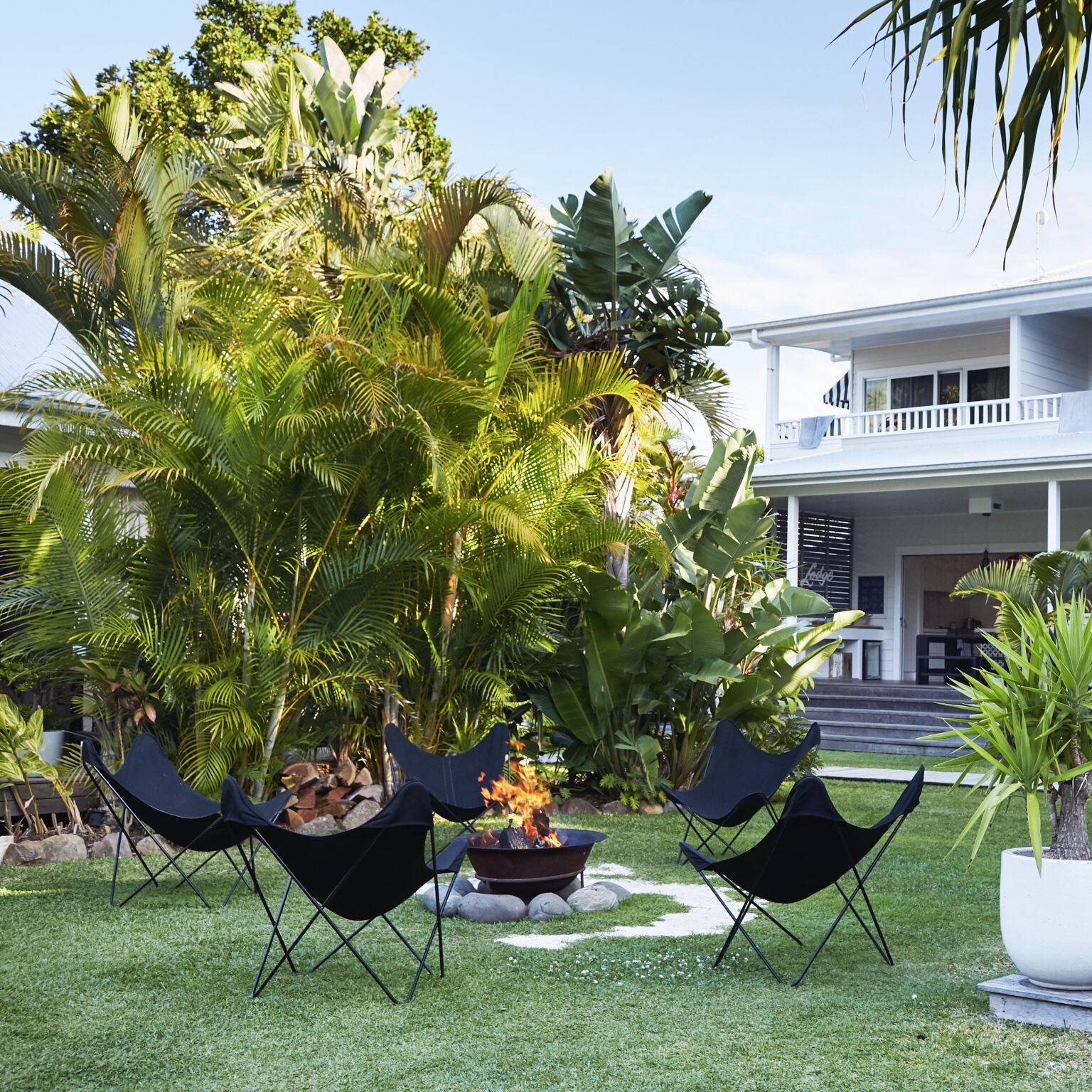 What do you think it is about the firepit that makes it so special?
We're blessed to have a nice firepit in a beautiful environment – to be outside in the fresh air. You see the reacton of the guests – how simple and amazing a nice outside fire is. Those full moons and warm balmy nights, it's something special. I've connected with quite a few guests around the fire and they've connected with one another. When you think about how many people stay over the course of a week even – there are plenty of memorable moments. It's amazing to hear and share stories of other people's lives. There's something about the fire that helps release the storyteller – it's hyptnotic, warm, relaxing, meditative, you feel comfortable. There's something sort of spiritual about it. The smells and looking into the hot coals – it really draws you in. You see the guests and they just get so relaxed – they open up and start letting go.
What's it like to live here and to have been involved in/seen the changes over the years?
It's definitely amazing – the people that have produced the place have done an amazing job – it's self evident. People make a space in their life to come here. It's been very satisfying.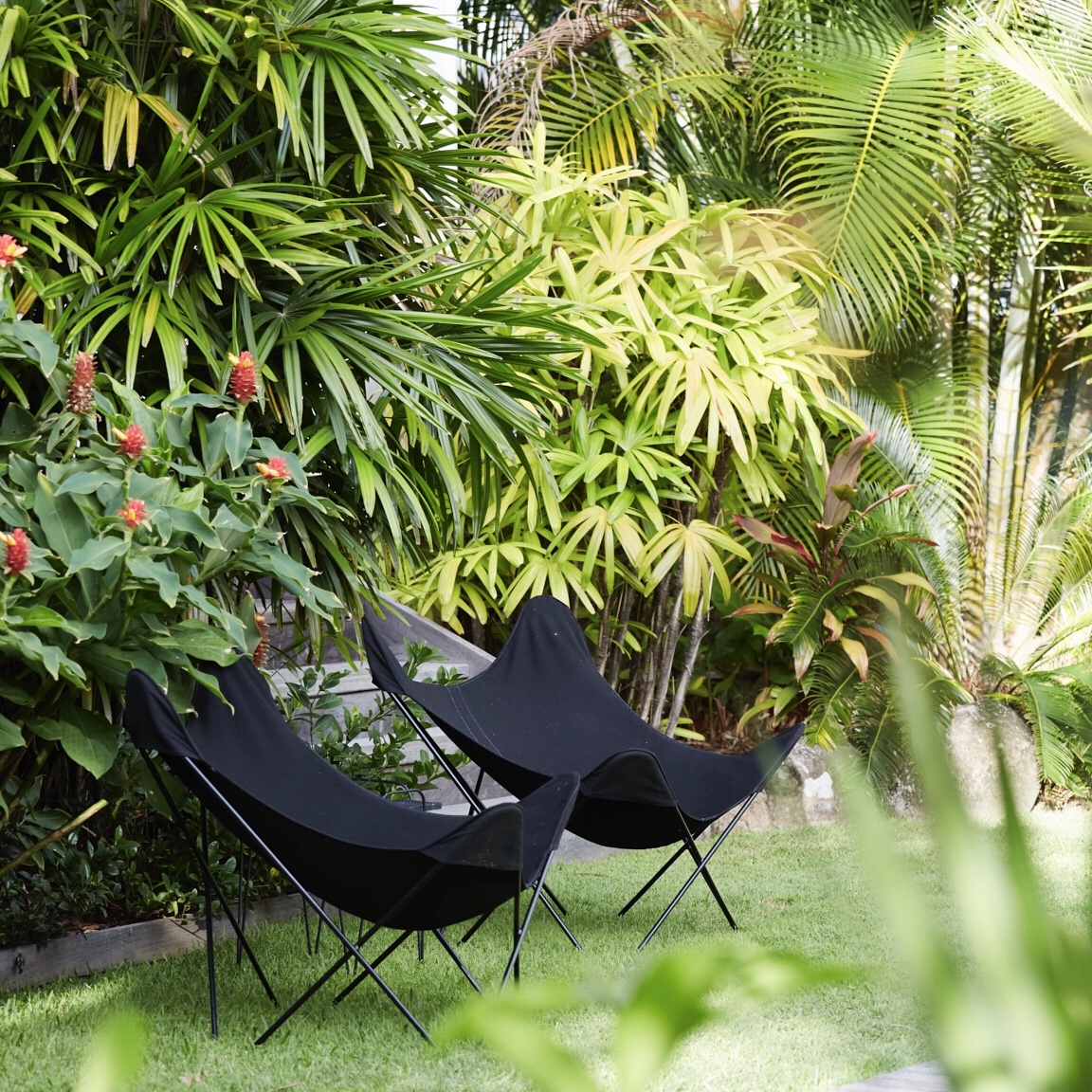 What do you love most about living and working at The Atlantic?
Definitely the environment – it is that good it's like a healing environment. I've seen people come here stressed and not well and they've felt better just being here. It's something about the setup of the place itself – it's a very safe, relaxing environment and it's easy to unwind here. There are so many relaxing places to hang – a lot of people say that about the gardens. It's like the plants are talking to them – definitely a huge part is the plant layout here.
Your barbecued prawns are a real hit – tell us more about these…where do you source them from? Any special ingredients you can share??
I always get my prawns from Bay Seafood – it is deadset the best fish shop I've seen that's not connected to a wharf. There's something good about Freckle, the owner – he's a hardworking, good bloke. They catch the prawns locally out here…and they get from the net to Freckle's shop really quickly, which is when I get them. For cooking them, I like to have special wood – I like cooking with banksia mixed with hardwood – it coals up beautifully and adds a nice smokey flavour. Sometimes I do a magical curry mix. Basically you need some oil on the outside to help the shell come off. I have a signature recipe which is garlic, ginger, chilli, turmeric (which I grow at the back), kaffir lime, coconut oil and white pepper –  I use a skillet which when you put that on the flame makes the coconut oil semi burn and caramelise around the edge – the secret is cooking on a skillet over the fire.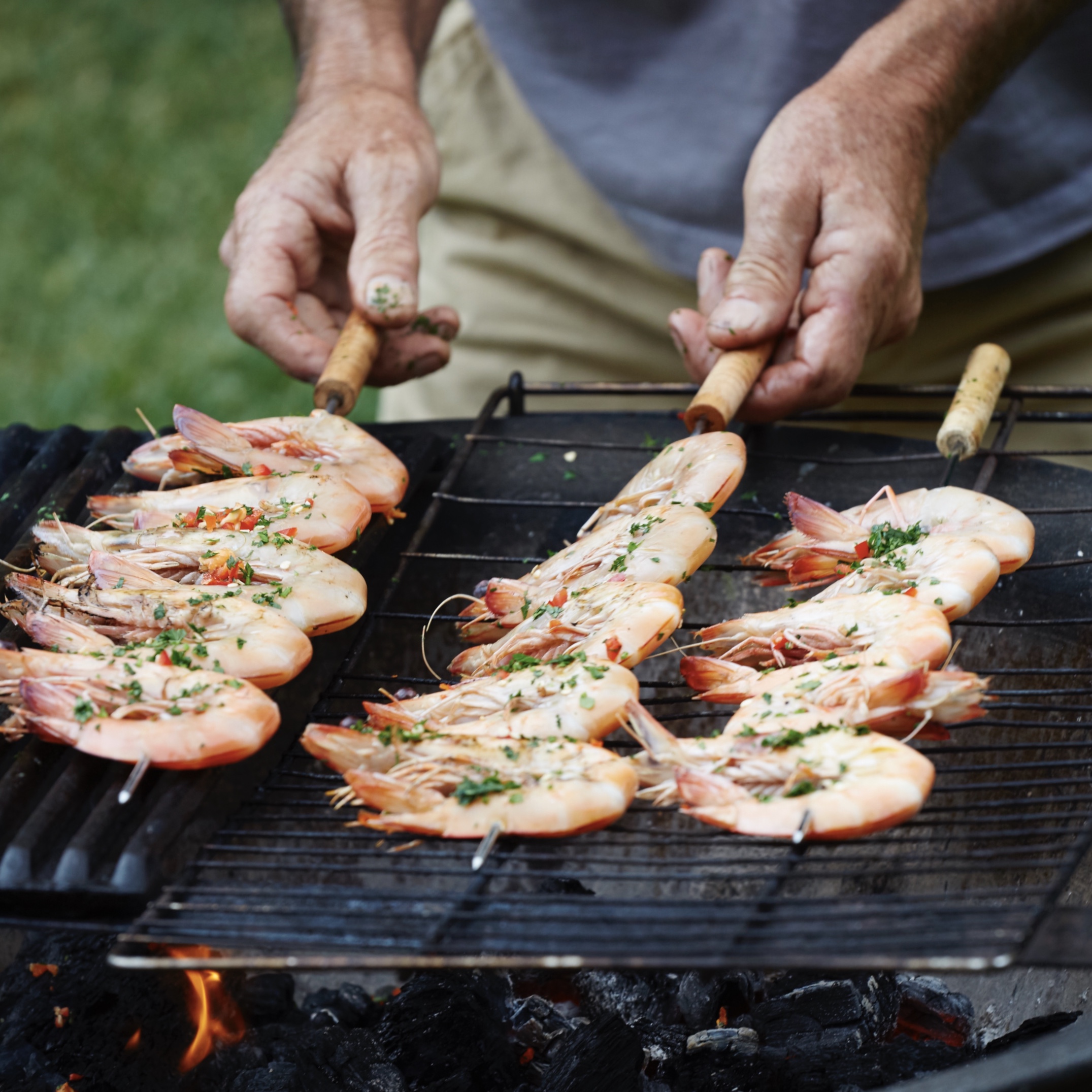 What do you like to get up to in your downtime, away from Atlantic duties?
I love to surf – which is one of the reasons I came up here – the ocean is huge part of life here. I also go on overseas holidays to Hawaii, Greece, Indonesia, Timor…
What are some of your top picks for good local food?
The Byron Bay Farmers Markets on a Thursday are great – the spirit is alive in the fresh food and other locally grown stuff there. I like to go to Doma, the Japanese restaurant in Federal. I love Mavis' Kitchen at the foot of Mount Warning. In town, Bang Bang and O'Sushi. In Lennox, Shelter – it's one of the only restaurants you can actually see the ocean from.