'EAST' – Mahala Magins' exhibition at The Atlantic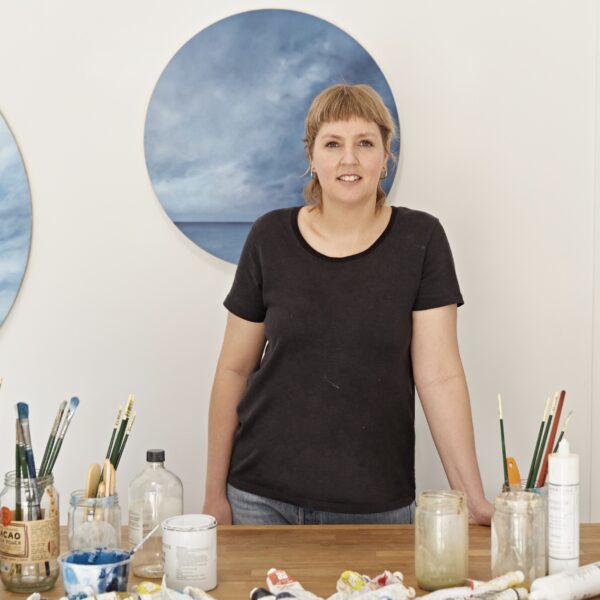 For the whole month of November, The Atlantic is excited to host local artist & friend, Mahala Magins' exhibition, 'EAST' – a series of her latest cloud paintings inspired by Byron Bay & her courageous cancer recovery journey…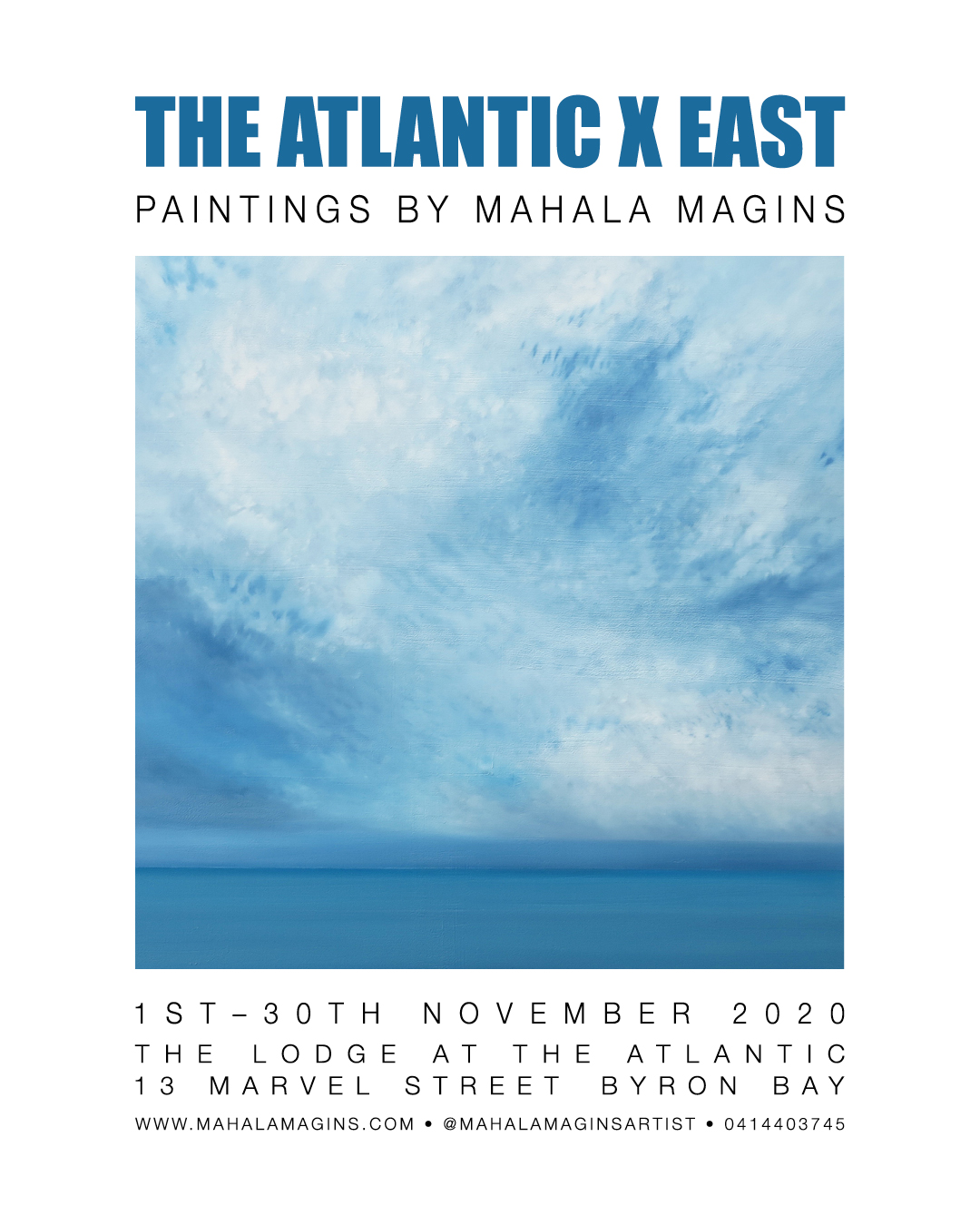 We're so excited about your upcoming exhibition, 'EAST', at The Atlantic during November – can you share a bit about the pieces you will be exhibiting?
'East' is a series of my most recent cloud paintings inspired by where I live and work; the most Easterly Point of Byron Bay, entwined with a meaningful undertone of adversity.
The adversity in my paintings comes from being diagnosed with Breast Cancer in 2017, and throughout that year I underwent extensive treatment and surgery, which yielded a loss of physical strength and confidence. 2018 marked the start of my recovery, and I had one goal in mind to help build my strength slowly; walking the Most Easterly Point of Australia, or more commonly known as the lighthouse walk (a must for anyone visiting the Bay!).
In the early stages it took some time before I made some headway, though I would always photograph the view along the way. At first thought, the daily photograph I would take wasn't anything more to me than documenting my recovery and process, a reminder of, "I can do this!". Though that changed for me when a friend in passing suggested the photographs were possibly inspiration for a series of new cloud paintings. I was so consumed with having had Cancer and at the time recovery was my biggest focus, I didn't want my studio practice to be also about the Big C … though in reflection how could it ever not be.
The photographs taken during the time of my recovery became the direct inspiration for the paintings I am now showing at The Atlantic. Which brings me to this quote by David Hockney: 'What an artist is trying to do for people is bring them closer to something, because of course art is about sharing. You wouldn't be an artist unless you wanted to share an experience, a thought.'
How can people view and purchase these pieces?
All 'East' paintings featured at The Lodge are available for purchase through the shop link via my website: mahalamagins.com and or click the link via my instagram handle: @mahalamaginsartist. On these profiles you can view each paintings detail; title, the medium used, size and price. For a more personal insight into 'East', I am offering viewings by appointment between 10am-1pm at The Atlantic Lodge house during the month of November.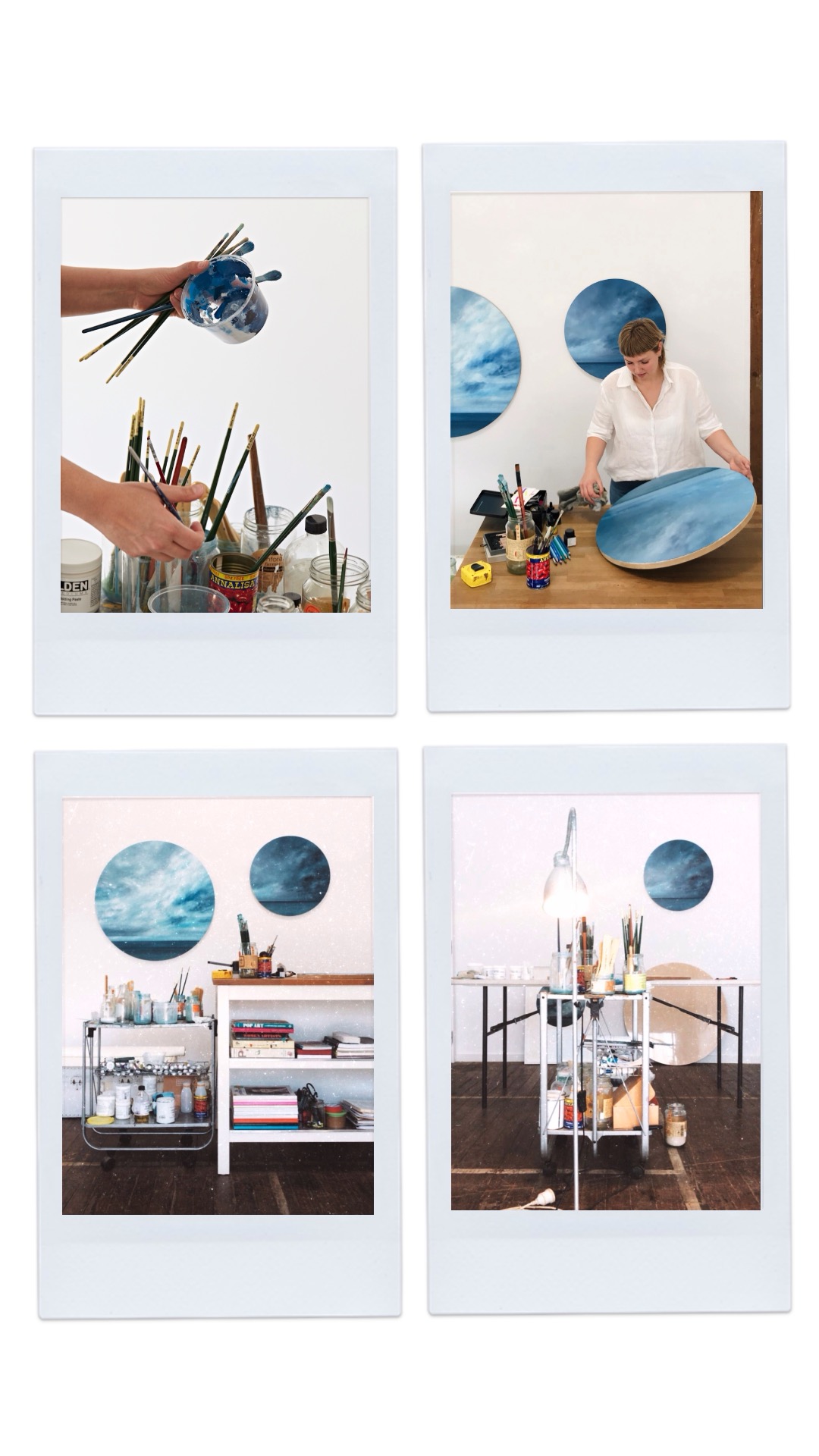 What inspired you to paint clouds?
The inspiration to paint clouds started with my interest and observation of the horizon line. In 2013 I was a recipient of an artist residency in the Northern Iceland. Every day for a month I would look out from the fjord and be consumed by the horizon line of the North Atlantic Ocean. This, in turn, lead to becoming interested in the placement of the horizon line in a painting or photograph; thinking about such placement and how it determines where the viewer is positioned in nature. From the horizon line came the exploration into cloud formations, in particular clouds that form over the ocean.
Can you share a little behind the scenes of your creative process?
The cloud paintings begin with visual source material, a photograph or a sketch that becomes intertwined by a lived experience or feeling. I then realise the painting by using oil paint on linen, canvas or timber, that has textured surface that I've made with a mixture of pumice and moulding paste. It isn't always my intention to try to replicate the clouds exactly but allow my thoughts and the edges of my vision through, until the paintings find their own life and direction, separate from but informed by their initial inspiration.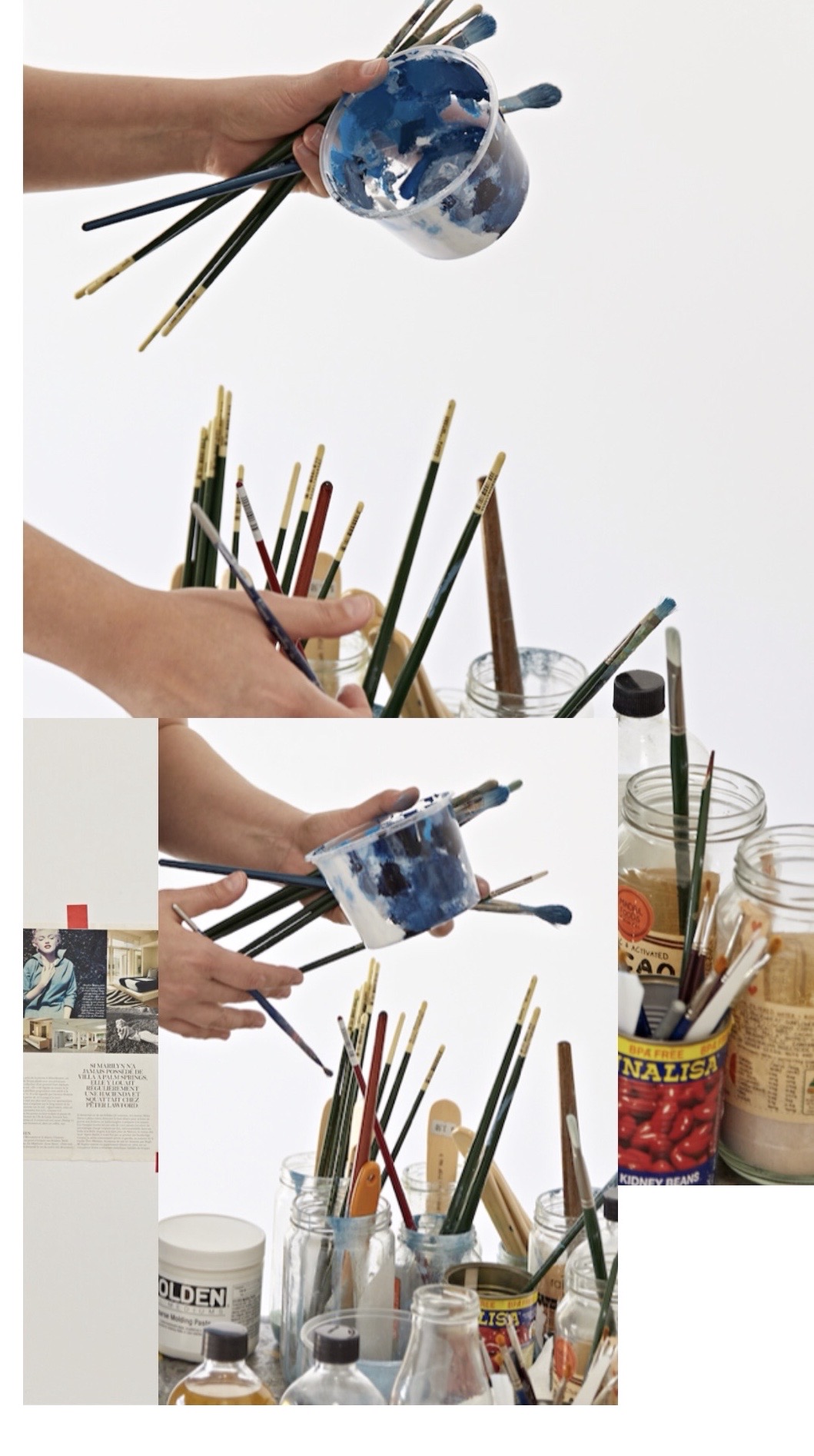 What led to where you are now as an artist?
I spent my youth living on a self-sufficient property with my Dad in The Clarence Valley, [North Coast of New South Wales]; being creative, surfing and staying connected to nature was nurtured; these things were taught as a priority in life. I moved to Byron Bay in 2002 to attend university and I earned a Bachelor of Visual Art at Southern Cross University in 2006. Since graduation, I have been a recipient of interstate artist residencies and an international residency to Iceland in 2013. I've continued to build my CV and to be active in the arts and it's community, locally and interstate; twice selected for The Portia Geach Memorial Award, The Gold Coast City Contemporary Art Award and the Hurford Hardwood Portrait Prize with my portrait of art collector, June Blanchett, held at Lismore Regional Gallery in 2015. After having many home studios, 18 months ago I acquired a studio space at 'Station Street Studios'; an art community in Mullumbimby where many well respected and represented artists work. This is where the paintings for 'East' formed in their entirety. The studio is a familiar place, and I stay motivated to keep working by immersing myself within this space; the studio becomes this purist of freedom and its is where I feel the most at home.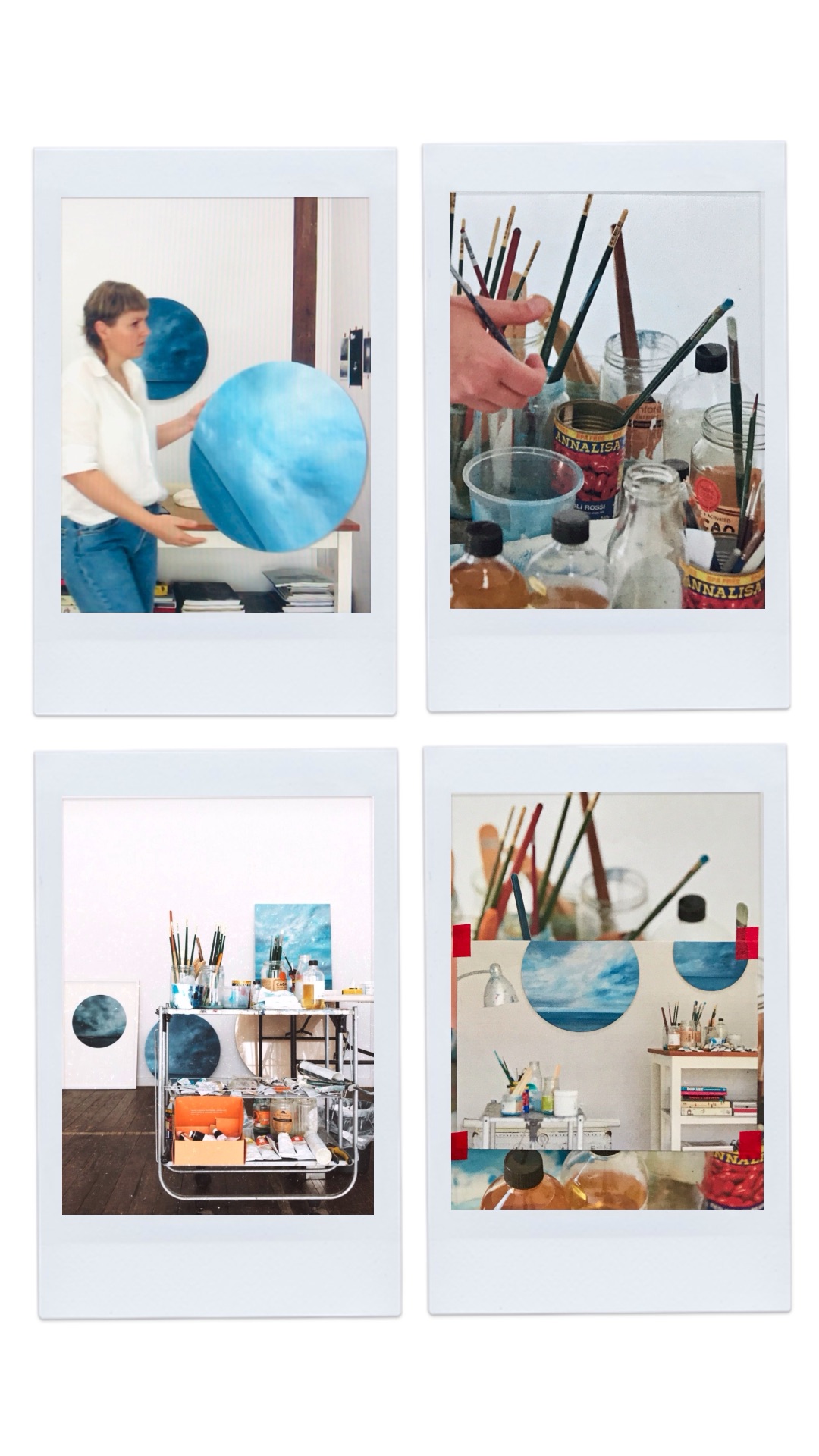 We love supporting artists at The Atlantic – how do you feel about this upcoming exhibition and working with The Atlantic?
I am honoured to be apart of The Atlantic's long history of supporting artists and the arts, local and abroad. 'East' is my first solo show since my Cancer diagnoses in 2017, at the time of my diagnoses I was preparing back to back solo shows for Byron Bay and Melbourne. So stepping into the art community again after having some time out can feel like a lot. Though not with The Atlantic, right throughout this process I have felt supported and nurtured; showing that The Atlantic is more than community, it's family.
To arrange a private viewing, please contact Mahala directly on 0414 403 745. All artworks are available to purchase online at mahalamagins.com.