Sheree Commerford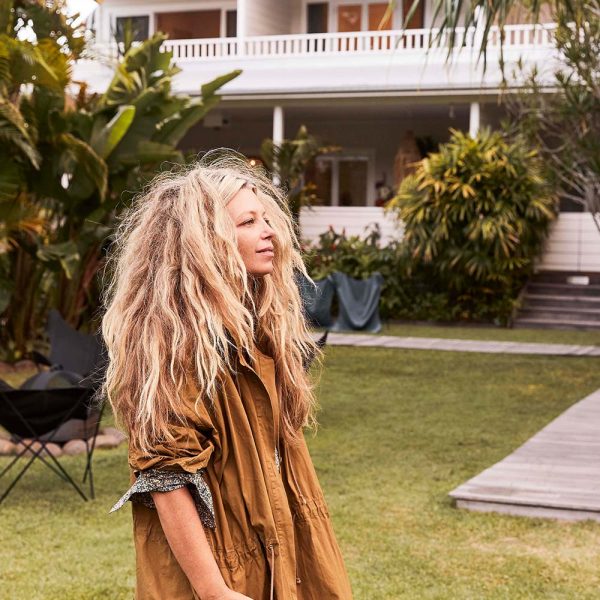 It's always such a pleasure to see your smiling face here at The Atlantic, it gets us to thinking though, how many times have you been now?
To be honest I have stopped counting. It has been eight years since we first came here and over time it is more like a visit home to see family than staying at a Byron Bay Hotel.
Do you recall the very first time you came to stay?
Yes. Sam and I had just arrived and were standing in the gardens, he mentioned that the curved wooden pathway looked like something his Dad had mentioned that his best mate, Skipper, had done for his daughter's property in Byron. Then, we heard kids on a skate ramp, something else Skipper had mentioned he had help build for his grandkids. The penny dropped, calls between the Mothers were made and the next thing we knew Kim came over and gave us a huge hug. Kim's Father and Sam's Father are best friends and they had grown up with one another at one stage. It was really a very unexpected and sweet reunion. I can recall every detail about that moment and often I cannot remember anything. My life changed for the better that day. Both our families have become very close and Kim and I are true spirit sisters.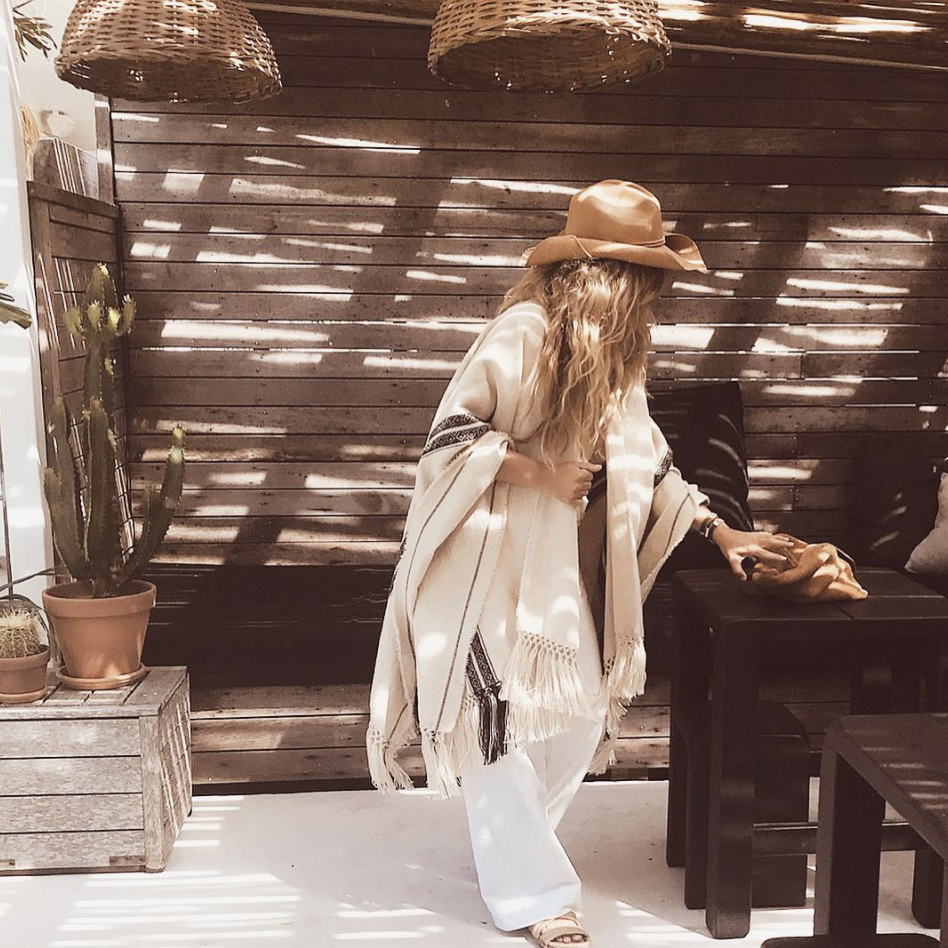 We're proud to say that The Atlantic has stayed true to its classic self over the years, small changes, but nothing that really throws anyone off balance, is that something you like, or would you be excited by constant change?
The Atlantic wouldn't be The Atlantic if there was constant change. It is very hard to find places to stay that can provide this level of byron bay luxury accommodation while still maintaining heart and soul. The Atlantic is an original, she is authentic and that is what makes her special. I remember when we first started staying there, there was nothing like this anywhere, especially in Byron Bay. The Atlantic was a first and Kim really created a signature style for coastal boutique hotels that many have tried to duplicate, The Atlantic is the original and I would be very sad if that got lost in change.
As a designer and creative in general, do you feel inspired when you're in the Byron Bay area, and if so, what drives that inspiration for you?
Absolutely. It is impossible not to feel the creative mojo when you are around such a creative community. There are so many individuals that work and live up there whose creativity I respect very much, getting to spend time with them is definitely one of the reasons we keep returning. Yet, mostly, it is the space that inspires me when I am there. The incredible natural surroundings and nature reserves like the one at The Atlantic is what truly gets my creative juices flowing, as I have time to think. Just by being there it gives my brain space to let all the rubbish flow out and the good stuff flow in. It might have something to do with growing up around the area so it has this calming effect, but as soon as I get there, my brain starts to declutter and I love that.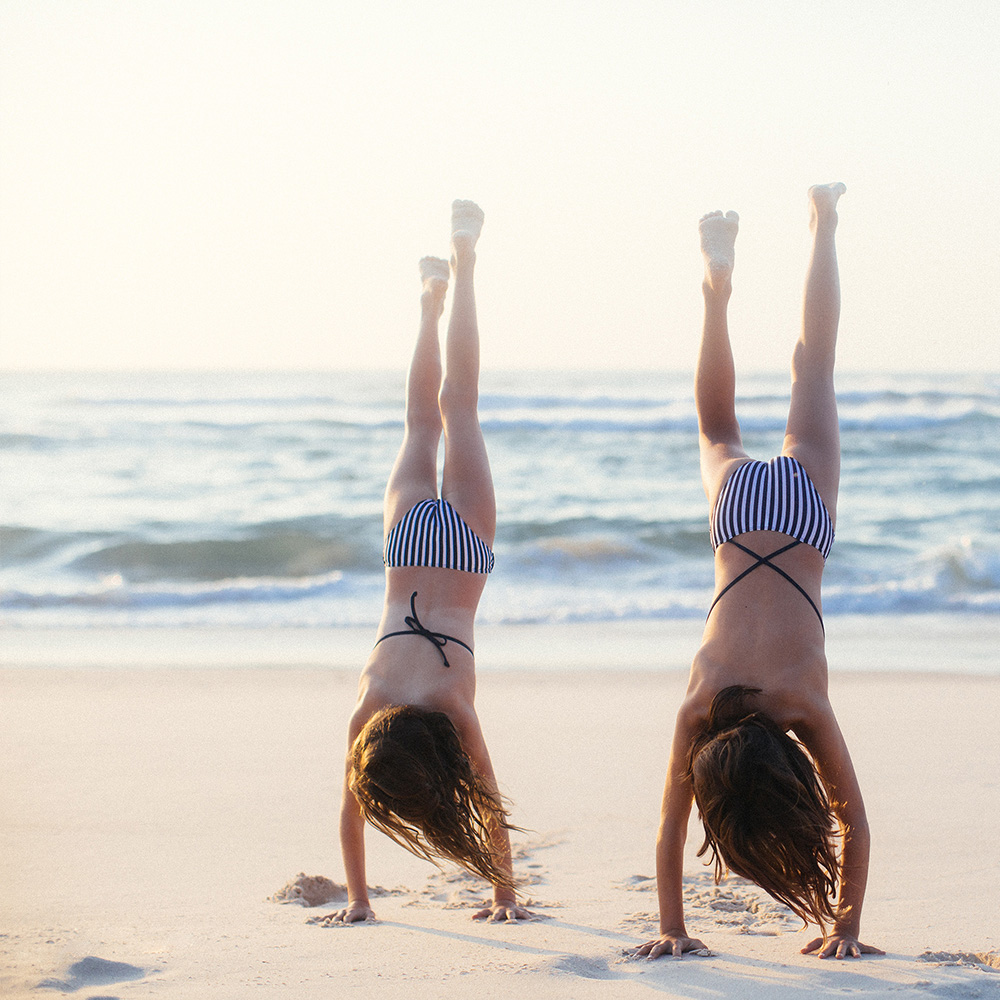 You've worked on so many amazing projects, some of those pictured here in this article, a lot of those while you've been staying here at The Atlantic, do you work from The Atlantic, or do you keep it as a place for relaxation only?
I love working from The Atlantic for two reasons. One is the environment. It doesn't feel like I'm working in surroundings like these. It is so peaceful. Just the sounds of nature and a friendly hello or two. I usually end up working in three or four different spots depending on what takes my fancy that day. By the pool, near the fire, under the shade shack in the kitchen. The second is the location. I can nail, in a couple of hours, what might take me a whole day at home. I'm up for a swim out the front or a walk to The Pass, I grab my fav coffee across the road. It is convenient for people to come and have a quick meeting or I can catch up with someone for a dinner meeting. It is so easy that way. In saying that I happily stay there when I am not working. It really just becomes what you need. A bike ride, wine with friends around the outdoor fire, a shop across the road at Island Luxe, a sleep in… don't make me take a holiday.
We've had the pleasure of working on some things collaboratively, one that we loved in particular was the Frankenreiter Family shoot. Tell us a little about that project.
That was such a fun project that we partnered on. I think it was the Byron Bay Surf Festival and Donovan was playing and staying with you guys. I can't remember how I reached out to them but they agreed to do a family shoot for CATGK and Kim was all up for us doing something creative on the property. I wanted to do this outdoor studio in the reserve with a calico backdrop and one thing led to another and we decided the family should be painting it and each other. So off to the hardware store I went for some King Gee overalls for the whole family, probably still my favourite look. The place was pumping with some wonderful folk for the surf festival and halfway through the shoot I turned around and the ladies had setup an outdoor lounge room behind our set to get a better view of our shoot. Wine was included so it got a little rowdy in the best possible way. Geez they were good times. We should do that again!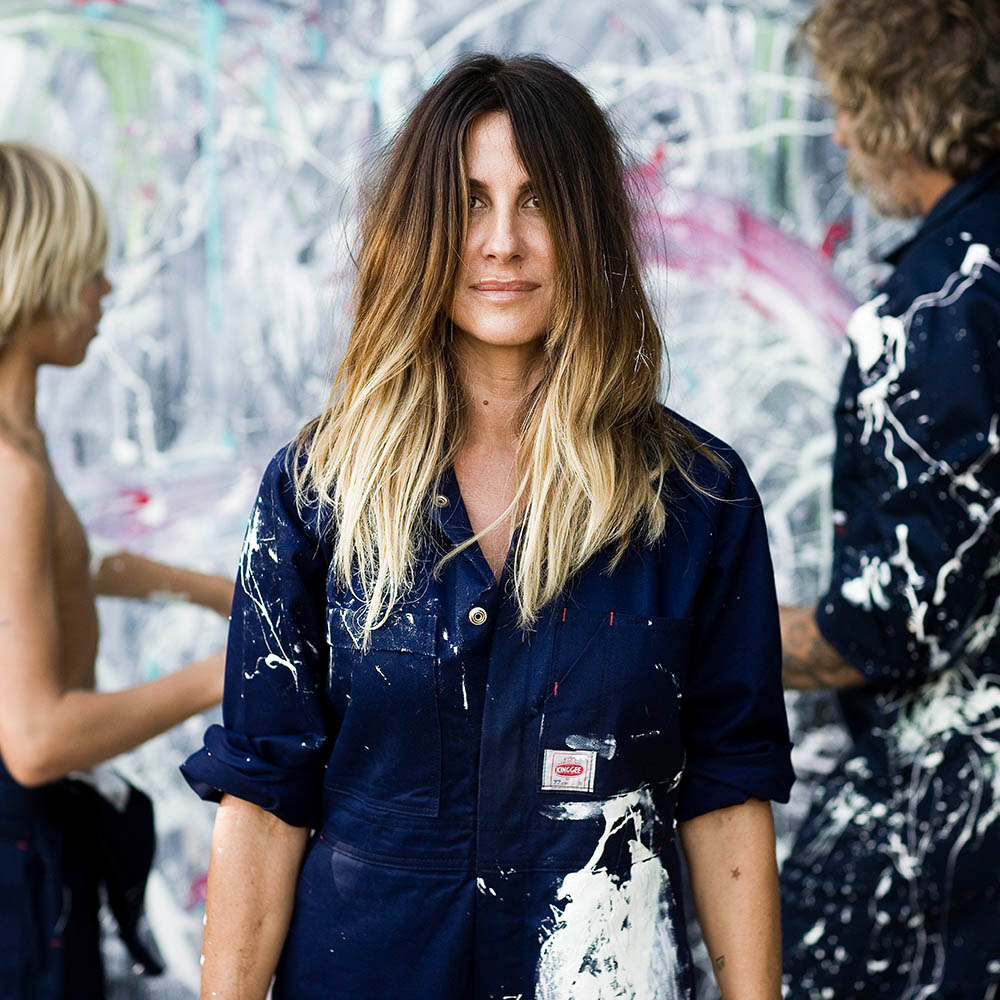 There are a bunch of great things to do in Byron Bay and the surrounding region, can you let us in on some of your favourites?
Absolutely. I love Brunswick for a hang, especially when the weather is perfect and the tide high, the river is a great spot for families. I love HomeGrown for a coffee and simple, healthy eats. I also like to pop into Clems Cargo for a vintage fossick before leaving. I always visit the industrial estate for a shop at Pampa and to see the lovely Vicki. I usually walk out of there with a bag, rug or piece of some wonderful artisan treasure. Next on my list is Fossil Vintage where I am currently obsessed with industrial lighting and old kitchen sideboards. Then lunch at 100 Mile Table is a must. If I have time to treat myself I will book a 90 min massage at COMMA which I cannot recommend enough. In town I love a little visit to Society Inc to feed my hardware obsession and I can never stay away from Island Luxe, even if is just for the experience of being transported elsewhere.
For food, I just go with the flow with whatever is happening at the time as it changes a bit but St Elmo's always has a great wine and The Top Shop is a breakfast fav. I love the shop at The Atlantic. Kim always manages to find that must have thing that you can't find anywhere else. Like those sisal shoes, I am obsessed.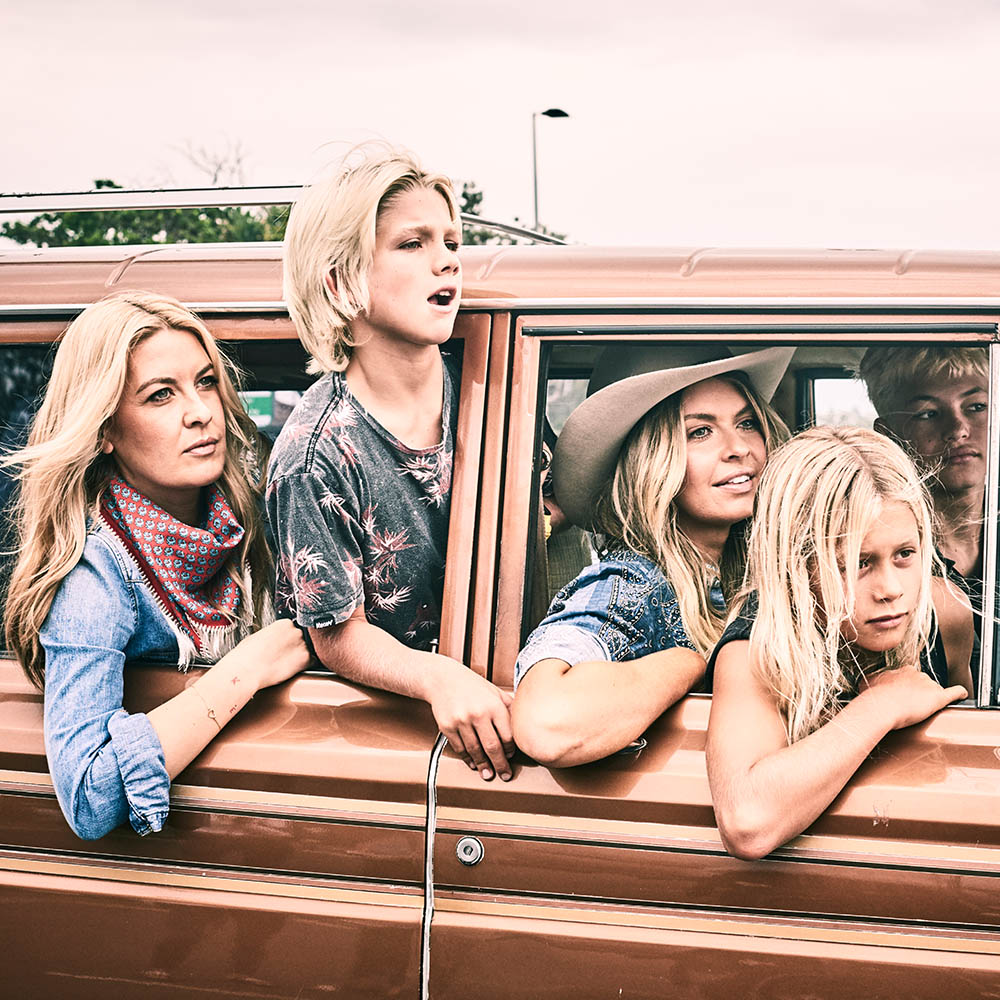 If you had 6 hours to yourself, would you go into the Hinterland or head straight to the beach?
Mmmmm this feels like a trick question, it all depends on the weather now doesn't it? By nature I am a beach girl, you get a hot day with perfect conditions and the crowds are not too crazy you will find me promoting bad sun safety, every time. If the crowds are up and the weather is not perfect or I just want to retreat, you'll find me in the hills.
Byron Bay is exploding with amazing food and drink right now, have you got your favourite haunts in town?
I have to be honest I always just get a new update from the team at Atlantic whenever I am in town as it changes so much. Some old reliables including those I mentioned above are The Roadhouse for all meals, just no kids at night which is a bit of a bummer. I am a long term fan of O'Sushi for lunch and a meal across the road from The Atlantic at Targa is so easy and delicious. I highly recommend the Tiramisu! Another old fav is the Italian Byron Bay for lasagne and a lychee/chilli martini. Slice Pizzeria is the ultimate takeaway option when you just want to stay in.
You're a constant creator, what's next for Sheree Commerford?
My biggest goal is to really put my energy into the creative projects that give me the most joy instead of losing myself to a million different wonderful things. I always get excited and want to do an unrealistic amount. Right now the family are gearing up for our first family trip to Italy where it will be a working holiday, of course. So my current aim is for my next thing to be a now thing. Just slowing down and enjoying what's happening in front of me.
To learn much more about Sheree, check out the website she shares with her partner Sam Elsom called Captain and the Gyspy Kid, and, you can follow CATGK on Instagram right here.