Meet the team: Amy Schydlo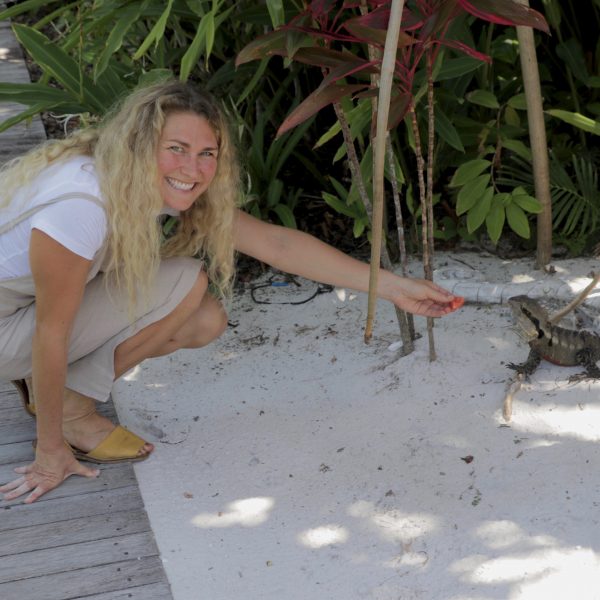 Amy is our awesome Reception Team Leader with the best hair in town and an even better personality. This fun, hardworking woman joined our team just over a year ago after a career change and lifestyle decision led her to Byron Bay. Learn why she decided to take the plunge and move to Byron, her top picks for places to check out in the region and why she's been given the nickname, Ranger Amy.
You took the plunge a couple of years ago to leave your very successful career in surf retail buying to move to Byron and start afresh. Can you share a bit about your background and what led you here?
I grew up in the Northern Beaches of Sydney where I studied fashion business and then moved to the Gold Coast for work with Billabong. After 12 years of surf retail buying, I was ready to step away from desk work and was open to all paths that presented themselves. There were plenty of perks with the job as Head Buyer – lots of overseas travel to places like Paris, London and Majorca – but I was starting to wear myself down and was ready for a change. I felt really content with what I had achieved in my career and wanted to step out on a positive note. I didn't have any further ambitions in that area so it was time. I wasn't looking for a career change as such, just to change things up. I also didn't necessarily have intentions to move to Byron either. I was living on the Gold Coast and saw a job for Island Luxe (a Byron Bay boutique) advertised and decided to apply for it and got it. So next thing, I moved to Byron and then connected with a former work colleague who was working at The Atlantic at the time, he informed me there was a reception position open and I would absolutely love it!
Well we're very glad you made that decision! Your first week was quite eventful, tell us about this…
Ha, yes, I helped Des relocate a carpet python that was hanging out near the gardens – that's when I knew I wasn't sitting behind a desk anymore and had made the right decision – it's rewarding to get your hands dirty!
What else do you love about working at The Atlantic?
I love the banter between all the departments on a daily basis – it's always positive – that's why everyone's always smiling. We all get the job done in a lighthearted way. I particularly love the opening shift on a Saturday – it's the best. I have a coffee with Des and we open up all the houses. Des always has a great story to tell – it's the best way to start a 7:30am shift. I enjoy the company of the water dragons, they watch you with such steeze. And of course, the interaction with guests and the open conversations that are had on so many different levels – you never know what you could learn in the day.
What do you think draws people to The Atlantic?
I think it's the homely feeling of the place. The fact that the owners, Kimberly and Stephen, actually lived here and brought their family up here – you feel it – they started it and then the people that work here continue to radiate that comfortable home feeling.
If you were to plan a day's itinerary for someone visiting Byron, what would you suggest?
– Start with an early morning ocean swim
– Drive to Doma in Federal for breakfast
– Stay out in the hinterland on a waterhole chase, stopping at a few country pubs along the way – The Eltham and The Channon pubs are favourites
– Then finish the day with another ocean swim or Bruns River swim and a sunset seafood dinner.

That's pretty much my ideal day.
Finally, you have a great outlook on life – what's one of your life mottos?
Try and make one part of every day like you're on a holiday – there's no reason why you can't and that's what we do at The Atlantic.