Atlantic's Eating In Guide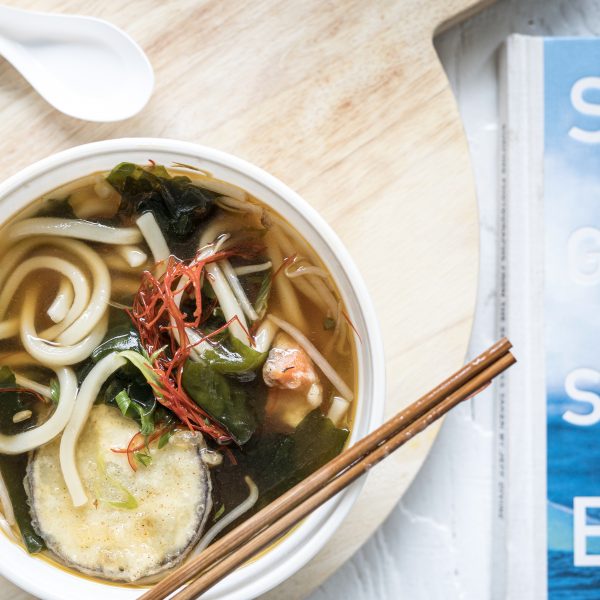 Enjoy a taste of Byron's best food, right here at The Atlantic (or in the comfort of your own home), with plenty of amazing takeaway and quality local produce offerings to choose from…
TAKEAWAY & DELIVERY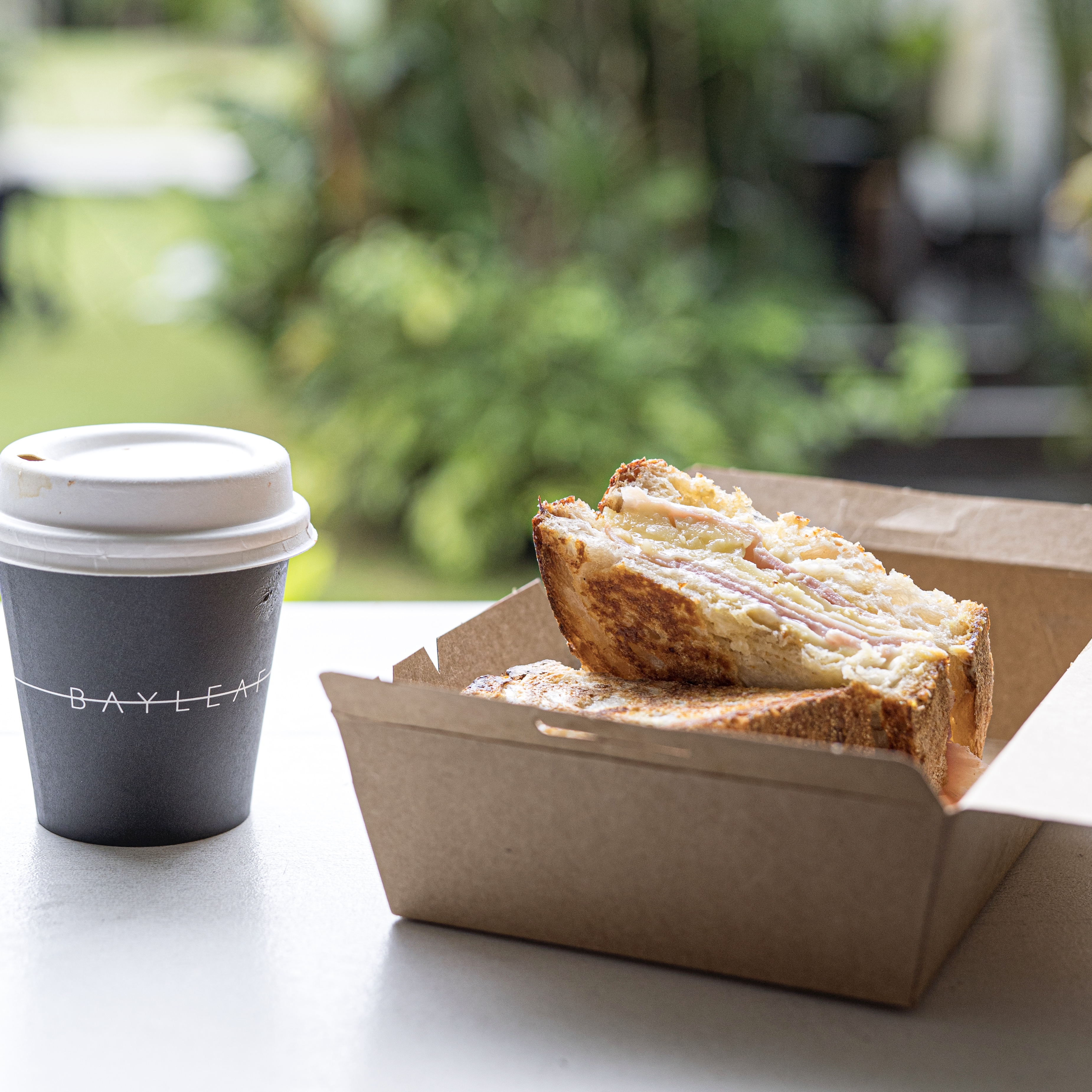 Bayleaf Cafe : Marvell St
Takeaway and home delivery ($20 min spend) 7am – 2pm
www.bayleafbyronbay.com/orderonline | @bayleafcafe
Combi: Fletcher St
Takeaway 7am – 2pm
Organic smoothies, pressed juices and yummy raw treats | @wearecombi
Targa: Marvell St – right across the road
Takeaway 9-12 and Friday & Saturday pasta nights
6680 9960 | @targabyronbay
Sunday Sustainable Bakery: Jonson St
Takeaway and drive through from Fletcher lane 6am – 5pm
Top Shop: Carlyle St
Take away / order online 7 – 12pm
Orgasmic Food: Bay Lane
Takeaway
Delicious falafels, hummus & pockets
Folk: Ewingsdale Road
Takeaway 7.30-2.30pm
Grab one of our push bikes and catch the fresh air. Now offering night time meals | @folkbyronbay
Three Blue Ducks: The Farm, Ewingsdale Rd
Takeaway 8-1pm The Bread Social & produce store
Now also offering seasonal fruit & veg boxes with delivery | @threeblueducks
Road House: Bangalow Rd
Takeaway breakfast 7-12pm & Pizza Friday – Sunday 5.30-8.30pm
02 56148880 | @roadhousebyronbay
Japonaise Kitchen: Lawson St
Takeaway Japanese: Breakfast 8 – 11am & Dinner 5-8pm
66855 5124 | @japonaise_kitchen
Bang Bang and Treehouse: Pick up now from Treehouse at Belongil
Takeaway curries and pizzas all $20 6-8pm
6680 9452 | @bangbangbyronbay / @treehouseonbelongil_byronbay
Yullis: Byron St
Vegetarian & vegan ready made take home meals.
Daily specials, just a stones throw away | @yullisbyronbay
Divino: Fletcher St
Takeaway Italian 5:30-8:30pm
6680 8424 | @divinobyron
Our Corner Kitchen: Bangalow
Takeaway pizza & also offering at home boxes with variety of pre made meals 5-8pm
6687 1271 | @ourcornerkitchen
Hunkydory: Jonson St
Takeaway fish & chips 11am-till late
Order online www.ordering.hunkydory.com.au
Harvest: Newrybar
Takeaway Coffee, pre-made meals & weekly fresh produce boxes (delivery available)
Order online: harvestnewrybar.com.au | @harvestnewrybar
Federal Doma Cafe: Federal
Takeaway Japanese – breakfast (7.30-11.30am), lunch (12-2:30pm) & dinner (4-7pm)
6688 4711 | @federal_doma_cafe
HOME COOKING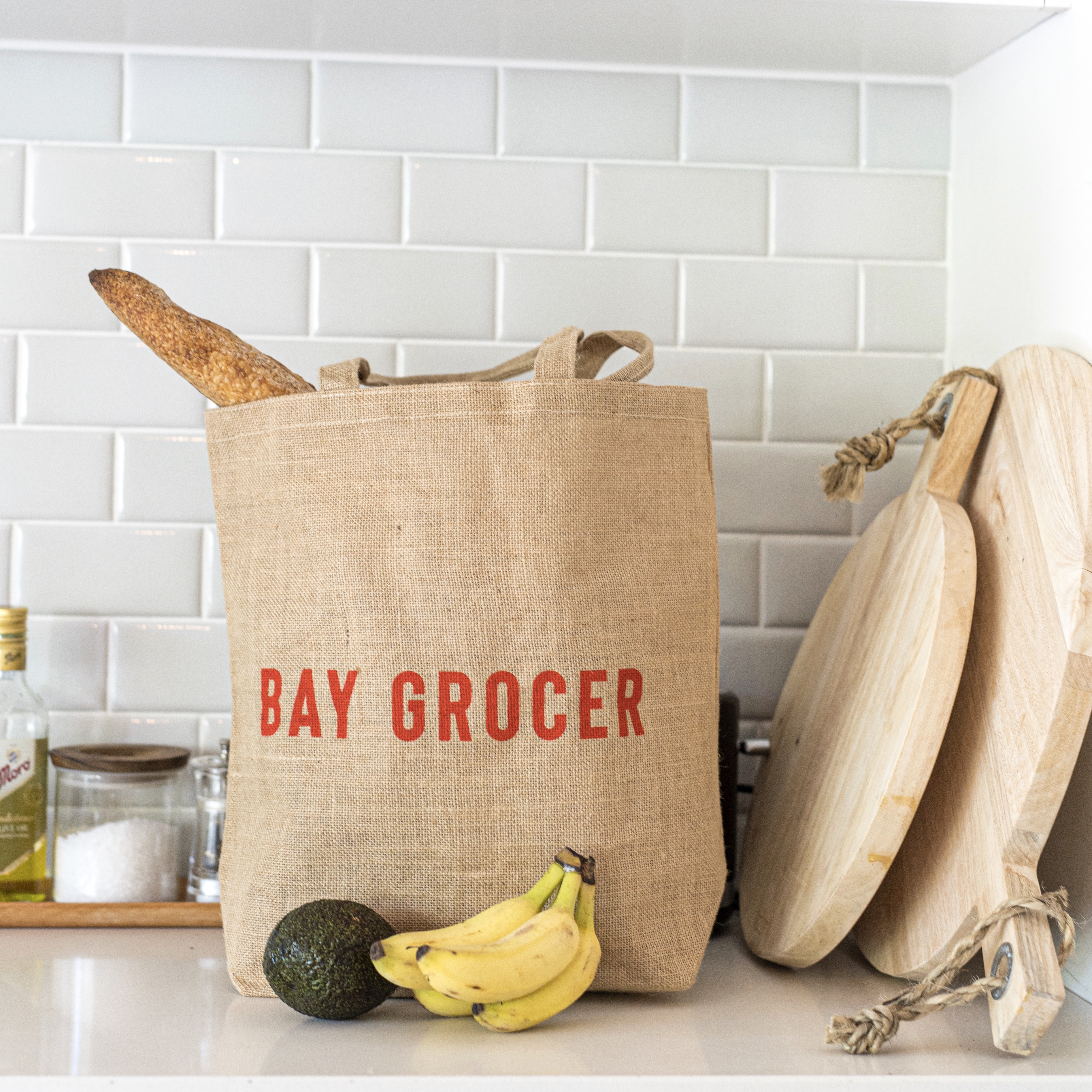 Bay Grocer: Tennyson St
Local food store and cafe selling fresh produce & take home meals 8am-6pm
& takeaway cafe 7-2 pm
Byron Farmers Market: Cavanbah Centre
Every Thursday 7-11 am
Organic an local fruit and vege, takeaway food options also | @byronfarmers
The Source: Jonson St
9-5pm, Sun 10-4 pm
Over 400 bulk whole foods to cook or snack away on | @thesourcebyronbay
The Bay Seafood Market: Fletcher St
Mon-Sat 8am-5pm
Always a fresh catch – Atlantic favourite on our fire | @thebayseafoodmarket
Trevor Mead Meats: Jonson St
Mon 7am-5.30pm Sat 7am-3pm
Click and collect or deliver (Order before 10am for same day delivery)
www.trevormead.com.au | @trevormeadqualitymeats
Baz and Shaz Fruit and Veg: Suffolk park
7am-7pm, 7 days a week
Fresh produce and local made general necessities, like organic chocolates! @bazandshazfruitnveg
Clunes Store, Cafe & Cellars: Clunes
Store 7am-7pm, 7 days a week & Cafe 7am- 2.30pm
Take home local groceries and cellar selection with delivery | @clunesstore
INDOOR & OUTDOOR DINING OPTIONS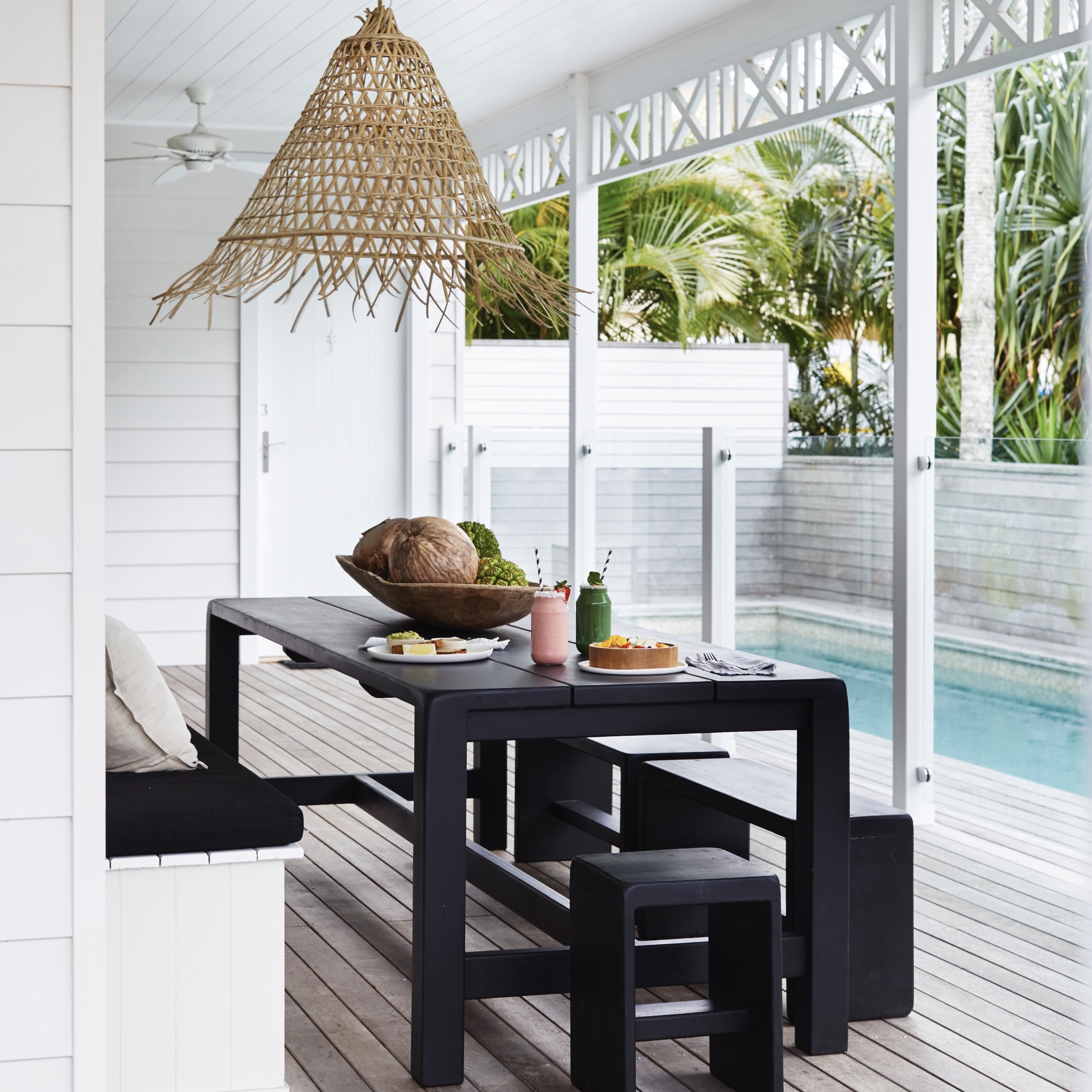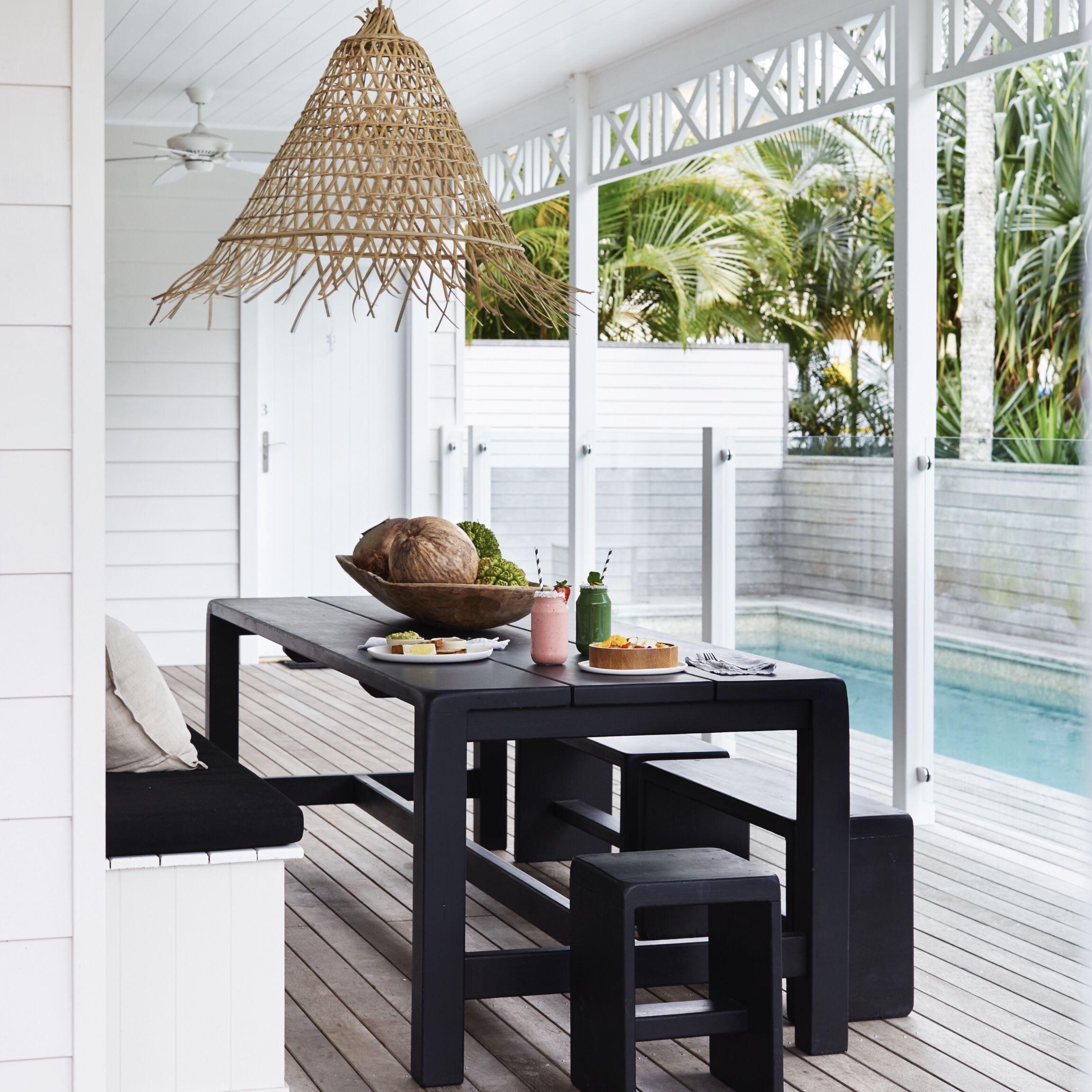 Picnic: We provide picnic baskets and rugs and the garden is the perfect tropical setting, so prep the basket and make that picnic in!
Dine in: We have four gourmet kitchens along with abundant indoor and outdoor dining spaces to choose from. Cook whatever your heart desires and get cosy at home.
Delivery to Room: movies and room delivery, holiday style. You don't have to leave your room.
Please be aware that business offerings and times may change, however we'll do our best to update this guide accordingly.
Images by Helena Dowdall & Alicia Taylor