Nightcap National Park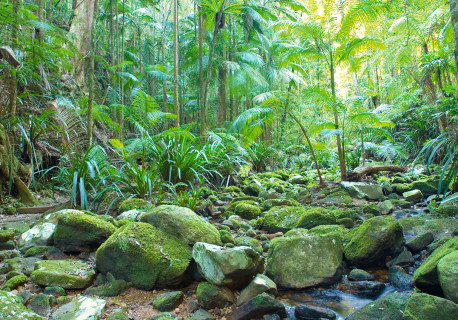 Head for a drive into the Hinterland and experience the rainforests sitting on the fringes of Mount Warning it's a land like no other. A magical place full of enchanting waterways, magnificent waterfalls and crystal clear creeks. Home to the newly discovered night cap oak, listen out for the mimics of Albert's lyrebird song, the clicking of the threatened barred frog and the crashing of waterfalls. Drive or bushwalk your way through this tropical oasis stopping for a picnic break at one of the parks many escarpments. Head out early and explore the Crystal Castle or The Channon Markets, held monthly and try one of the following walks.
Protestor Falls Walking Track : 700m each way, 45min easy walk
This World Heritage-listed walking track leads through magnificent rainforest to the spectacular Protestor Falls. An easy short walk for nature-enthusiasts, the falls are nestled into the rugged ranges of the Nightcap National Park.
The Boggy Creek Walk : 2 klm each way, approx 1 hour easy walk
A nice short easy walk that allows you to meander through the rainforest, swim in one of the rock pools or simply take in the enormity of the large turpentine trees, blackbutts and flooded gums. All leisurely at your own pace between Minyon falls and the Rummery Park camp site in Whian Whian.
Big Scrub Loop Walking Track : 1.5klm loop, 45min medium difficulty walk
The tracks are clearly marked and along the way you will see magnificent fig trees and a towering rainforest canopy. The lush understory of palms and subtropical rainforest plants creates one of the most magnificent rainforests in the region. Bird watching and crystal clear creeks make this a popular walking track.
And these are just a few, explore here for more walks and park updates.